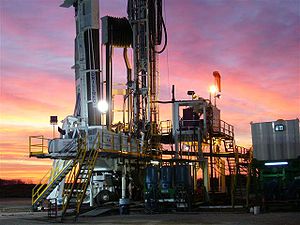 15 February 2013, News wire – Parker Drilling Company, a global contract drilling firm with presence in Nigeria has reached a $15.8 million (N2.496 billion) settlement with the United States' Security and Exchange Commission, SEC and Department of Justice over bribery allegations in its transactions in Nigeria and Kazakhstan.
According to a statement by the company, the settlement ends a three-year investigation that found out that it had potentially made illegal payments to a government official in Kazakhstan, and used an individual agent in Nigeria in connection with some customs-related issues.
The company said it will record a $15.8 million charge to cover the settlement with the U.S. government relating to possible violations of the Foreign Corrupt Practices Act in a case that has ensnared several explorers.
The company is also projecting a fourth quarter net Earning Per Share, EPS loss of $0.03-$0.05, citing slower demand for barge drilling rigs and increased competition in the rental tools market.
According to the company, its international operations were hurt by lower rig utilization in the fourth quarter, while its U.S. operations saw weak demand for barge drilling rigs and increased competition in the rental tools business.
The company had a couple of days ago, announced that its Senior Vice President and Chief Financial Officer, CFO, W. Kirk Brassfield, would resign effective April 30.
The company said Brassfield will stay on to help identify and transition the company to his successor.
Robert Parker Jr, Executive Chairman of the company, said Brassfield joined the company in 1998.
He said, "Our organisation has benefited enormously from Kirk's financial and business expertise over his 15-year tenure with the company. On behalf of the entire organization, we thank Kirk for his many contributions and wish him well in all his future endeavors."
The company also got a new president and CEO last fall, when the board of directors elected Gary Rich to the position. He replaced Parker, who had taken the position on a temporary basis after former CEO David Mannon stepped down.
Parker Drilling is Houston's 87th-largest public company, according to the Houston Business Journal's 2013 Book of Lists.