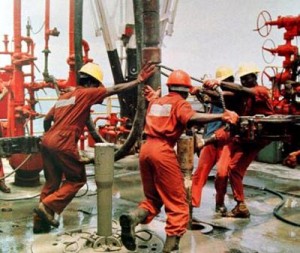 15 October 2012, Sweetcrude, LAGOS – THE Petroleum and Natural Gas Senior Staff Association of Nigeria, PENGASSAN, has called for an end to the incessant use of casual workers in the Nigerian oil and gas industry.
Mr Chika Onuegbu, PENGASSAN's National Industrial Relations Officer, made the call in an interview with the News Agency of Nigeria, NAN, in Port Harcourt on Monday.
Onuegbu, who is also the Chairman, Trade Union Congress, TUC, Rivers chapter, said the much desired transformation would be achieved if the issue of casual workers was addressed.
He described the use of casual workers in the sector as a "huge challenge" which demanded an urgent attention.
The PENGASSAN spokesman said that lack of appropriate enforcement of the Nigerian Oil and Gas Industry Content Development Act, 2010, was responsible for the increase in the number of casual workers in the oil sector.
He said that the misinterpretation of the Act had also hampered the promotion of local contents., noting that the international oil companies, who were into employment of casual workers, were doing this with the intention of dodging payment of benefits to the permanent staff members.
"The casual workers are being used with no provision for pension,leave, housing and other benefits. We want to see our people being trained and assigned responsibilities in critical disciplines of the oil and gas sector, not as figureheads for the purpose of statistics,"
Onuegbu said.
The unionist urged the Nigerian Content Development and Monitoring Board, NCDMB, to redouble its effort and ensure that the act was adequately enforced.
Onuegbu explained that NCDMB was set up to supervise, coordinate and ensure compliance with the Nigerian Content Act.