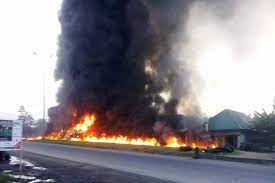 Mkpoikana Udoma
Port Harcourt — Two persons have been burnt to dead in Omerelu community, Ikwerre Local Government Area of Rivers State, following a petrol tanker fire explosion in the area.
This is coming few days after a similar incident was averted at Education Bus-stop in Mile I Diobu, when a petrol tanker in trying to make a u-turn lost balance and spilled its contents but for the rapid intervention of security agents and fire service operatives.
The fire explosion, according to eye witnesses which occurred in the early hours of Wednesday, also razed down buildings and destroyed properties worth millions of naira.
Our correspondent gathered that the explosion was caused by the collision of two petrol tankers, at a police check point.
An eye witness, Amadi Okedi, said a tanker conveying petroleum product was stopped by policemen at the checkpoint, in an attempt to allegedly extort money from the driver, when another tanker collided with it at the check point.
"The incident occurred in the early hours of today. Fire explosion occurred when two petrol tankers collided at the security checkpoint. The fire razed the surrounding buildings with two people losing their lives.
"Community youths have risen against the activities of the taskforce and incessant police check point along the Owerri-Port Harcourt, and we are calling on the state government to intervene to save lives," the witness say.