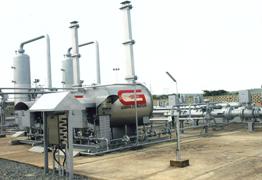 16 August 2012, Sweetcrude, ABUJA – THE Power Holding Company of Nigeria, PHCN, owes the Nigerian Gas Company, NGC, and other gas operators N26 billion for gas supplied to it, an official of Nigerian National Petroleum Corporation, NNPC, has said.
Mr David Ige, NNPC's Group Executive Director (Gas and Power), made this known to newsmen in Abuja on Wednesday.
"On the average, our monthly bill is about N2.5 million for gas supply. Cumulatively, what we are being owed is about N26 billion up till June,'' he said.
Ige, however, said the Ministries of Petroleum Resources and that of Power had increased their synergies in order to ensure the speedy payment of the debt and pave way for an efficient gas to power project.
"We have met with the Minister of Power and a lot of work is being done internally, we should be getting full payment for all gas supplies.
"We are working very closely with the power ministry, the issue of underpayment is essentially over. ''
He said the robust synergy between both ministers had gone a long way in clearing the bottle necks associated with the payment.
He expressed optimism that power would soon stabilise in the country with the increased gas supply.
Mrs Diezani Alison-Madueke, the Minister of Petroleum Resources, told newsmen in April that there was improved gas supply to the national grid.
"Since the roll out of the plan, we have achieved major milestones in the expansion of the Escravos-Lagos pipeline system, the major gas supply artery to the power plants.
"We have completed the permanent gas supply pipeline from Itoki to Olorunshogo via Ewekoro.
"We have also completed the Escravos-Warri gas pipeline, doubling the pipeline capacity and enhancing gas evacuation from Escravos,'' she had said.
She said in addition to the pipeline projects, major repair works had also been carried out on the Utorogu and Ugelli gas plants.
"With these interventions, we are now able to supply gas to the full requirement of Egin, Sapele PHCN, Delta IV, Olorunshogo (both PHCN and NIPP plants) and Omotosho PHCN power plants. ''
She assured that by September, the gross short term additions to gas supply would be 245mmcf/d as opposed to the 180mmcf/d earlier promised.
She pledged to continue to work with relevant stakeholders to ensure improved power in the country.
It will be recalled that the minister had in April declared a 12-month gas supply emergency plan, designed to ensure improved gas supply to the NIPP and correct the misalignment and challenges in the nation's gas to power aspirations.