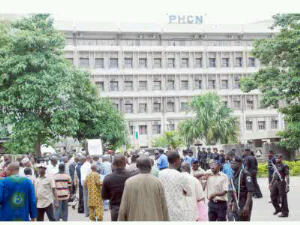 Victor Ahiuma-Young
23 February 2013, Sweetcrude, Lagos –Barely 24 hours after the Federal Government said it had approved N384 billion for the payment of entitlements of workers of the Power Holding Company of Nigeria, PHCN, Organised Labour has rejected government's position, threatening to shut down the sector next week should government fail to reverse its position.
Under the umbrella of National Union of Electricity Employees, NUEE, labour wondered how the government arrived at N384 billion when the technical committee comprising government appointed actuarist – Alexander Forbes, Bureau for Public Enterprises, BPE, PHCN, and the unions charged with the responsibility of computing the exit package of PHCN staff was yet to conclude its assignment.
Reacting to government announcement through its General Secretary, Comrade Joe Ajaero, the workers argued that Alexander Forbes and BPE officials discovered and accepted fundamental errors in the data used for their computation in the course of the committee's discussion and thus agreed to reconvene on a later date towards addressing the fundamental errors.
According to the statement "It is therefore amazing that figures can be conjured to calculate the exit benefits without reference to the technical committee. The announcement is highly provocative.
"The figure (N384billion) is laughable because government is also aware that one third of the staff population were excluded and majority of those captured had their entitlement calculated based on two grades lower than their actual grades".
"Besides, regularisation of casuals who have been in the industry for a long period is yet to be concluded and the value of their exit benefits should form an integral part of the total package.
"If the money (N384 billion) to be paid to the staff is to appreciate them for their concerted efforts towards the noticeable power improvement in the country, we shall gladly accept it and commend government for the largesse.
"But if it is for our exit packages, then government should do the right thing. It is imperative to remind government that time without number it has made pronouncement to its commitment to the rule of law which unfortunately has not been demonstrated in this case. This can only be regarded as an act of impunity, since this figure was not a product of consensus by the parties involved in this matter."
It added that. "Calculation of exit package not done on the basis of accurate data is totally unacceptable to us and shall be resisted through all legal means. The Technical and Implementation Committees should therefore be allowed to conclude their assignments without hindrance and resort to the use of armed forces to short change workers in the Sector.
Besides, the use of Sacked workers the drivers of this process as lacking in the knowledge of Personnel and Industrial Relations. If it is not reversed, we would behave like Sacked workers effective next week. Power of impunity will definitely not work towards addressing these issues."