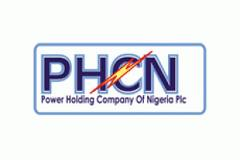 July 2013, Lagos – The Power Holding Company of Nigeria, PHCN, has urged the State Security Service, Police and other law enforcement agencies to help tackle the issue of vandalisation of its equipment.
Speaking at a Customers' Parliament Forum in Lagos, the Chief Executive officer, Mr Oladele Amoda said the call became necessary to end acts of vandalism and further boost power supply in the country.
Amoda said the cost of replacing vandalised materials is unbearable, adding that its runs into several millions of naira.
He said the socio-economic effect of vandalism was negative, because it results in throwing the communities into darkness.
He said: 'We spent millions of naira to replace the vandalised equipment; this amount would have been better expended on new projects for the customers.''
He advised Community Development Associations, and other well meaning community members to be alert and assist in curbing vandalism of electrical equipment within their localities.
He said the forum was an avenue for various customers to express their mind on how to improve service delivery and to intimate them of the challenges confronting the zone.
The PHCN boss said that the forum would create enabling environment to appeal to customers on ways to protect government equipment, adding that the agency is putting measures in place to improve electricity supply and socio=economic activities in the country.
"We are working towards ensuring distributing 20-hour electricity supply daily to our customers by December, and to 22-hours in January, said, adding that funding is the major problem preventing the government from providing regular power to people.
He explained that in the current Multi Year Tariff Order 2, MYTO 2, customers are expected to have metres installed at their premises free.
Meanwhile, the National Union of Electricity Employees, NUEE, has threatened to stage a nationwide protest if payment of PHCN workers' severance package is not implemented by the government.
The Chairman, Lagos Chapter of NUEE, Adeleke Ibrahim, told the News Agency of Nigeria yesterday in Lagos, that the union has given an ultimatum of end of July.
Ibrahim said that the payment has suffered setbacks due to the inability of the Federal Ministry of Power to put their records straight. He however advised the commi
ttee
s and government agencies saddled with the computation of the workers' severance package to expedite action and ensure they were paid on time.
Ibrahim said the union will resist any further delay in payment of the severance package as from the end of this month.
"At the end of this month, if nothing is done, we will come out as usual and Nigerians will now know who is who. We are not pretending over that,'' he said, adding that the workers have waited long enough since for the severance package to be paid.
"Our members keep worrying us that the money is being delayed," he said, urging that government should fulfil its pledge to pay the workers by the end of July.
– The Nation.