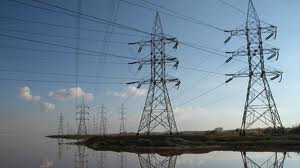 Tony Edike
29 August 2012, Sweetcrude, ENUGU—THE Power Holding Company of Nigeria, PHCN, Enugu Electric Distribution Zone, Tuesday, called on the five
South-East governors to order the demolition of all structures built under high tension power lines and too close to other power installations to prevent electrocution of the people.
The company particularly asked the Enugu State Government to urgently remove the large billboard it erected under the 330KV high tension power line near Haijag Construction Company along Enugu-Onitsha expressway in Enugu.
The metal edge of the billboard, which bears the inscription of Enugu Lifestyle and Golf City, also known as Centenary City, almost touches the power line and constitutes serious danger to workers of the Construction Company and petty traders within the area.
The PHCN Public Affairs Manager in the zone, Mr. Eseme Udoh, who conducted newsmen round some of the affected power lines within Enugu metropolis, Tuesday, regretted that despite repeated warnings to property owners within the zone, they have continued to erect illegal structures directly under high
tension power lines.
He said that occupants of such structures are exposed to danger as they would be easily electrocuted if any problem occured on such power lines, adding that necessary precautionary measures should be taken by members of the public by way of rejecting occupation of such structures or doing business under power lines.
He said: "If you can recall, the PHCN had problems in Port Harcourt and Ibadan in the past when live wires snapped on people. The one in Port Harcourt was at a bus stop and killed several people and that of Ibadan was in a market where many market women were affected.
"As a responsible organisation, we have embarked on sensitisation of members of the public and customers especially those who have structures under high tension power lines."