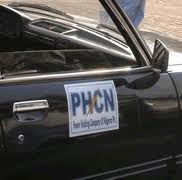 Kunle Kalejaye & Victor Igiri
11 September 2012, Sweetcrude, LAGOS – THE Power Holding Company of Nigeria, PHCN, has appealed to electricity consumers to promptly settle their outstanding bills to enable it provide stable and efficient power supply in the country.
Addressing electricity consumers at a Customers' Forum in Lagos, the Business Manager of Agbara/Badagry Business District, Mr. Adewale Onifade, appealed to consumers within the district to pay up their outstanding N2 billion owed the company.
"As of today, customers within this network owe PHCN well over N2 billion," stating that a breakdown of the debts showed that consumers in Agbara were owed over N625 million; Oko Afo, over N842.73 million; Badagry (N630.84 million) and Aiyetoro (N546.75 million)," he said.
Onifade stressed that it would be difficult for PHCN to continue their operation in an environment where so much is invested, in order to satisfy customers need, yet there is no corresponding response for services rendered.
He added that business activities might be interrupted if consumers do not pay up since Agbara and Badagry were hosts to many business concerns..
He also said that "PHCN Eko Zone has invested so much in the Badagry axis to sensitise customers on the need to pay up their debts so that the money would be returned to the source," adding that PHCN services must be paid for since energy are not free.
He noted that PHCN has no other sources of funds, and that increasing debts would impede on development in the areas.
He noted that cost of capacity improvement for the Agbara 132/33/11KV station from 90MVA to 150MVA, and the creation of another 33KV and 11KV feeders in order to relieve the Badagry 33KV feeder that is constantly overloaded are quite enormous and pleaded with the customers to pay their bills as and when due.
"Our doors are open for you to bring your complaints with the assurance of prompt response. We urge you not to relate with touts and encourage you to report any identified PHCN staff who attempts to extort money or any form of gratification from you," Onifade urged.
At the event, a committee was inaugurated in which executives were elected from the four locations under the business district which are Agbara, Oke Afo, Badagry and Aiyetoro to serve as a link between PHCN management and customers within the district.
In his concluding remarks, the Business Manager promised the customers a 24 hour safe and steady supply of electricity and good services if they responded appropriately by settling their bills.