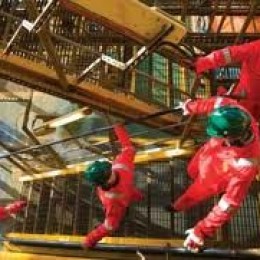 23 July 2012, Sweetcrude, LAGOS – THE Petroleum and Natural Gas Senior Staff Association of Nigeria, PENGASSAN, has asked members of Nigeria's National Assembly to cut short their vacation and give urgent consideration to the Petroleum Industry Bill, PIB, forwarded to the Assembly by President Goodluck Jonathan last week, on the eve of their vacation.
PENGASSAN President, Comrade Babatunde Ogun, said the action of the legislators in proceeding with their break after receiving the Bill amounted to not appreciating the critical nature of the bill to Nigeria and its economy.
A statement issued by the union's National Public Secretary, Zaid Kolawole, quoted Ogun as urging the lawmakers to reconvene soon to "pass this most important piece of legislation to the Nigerian economy".
According to him, the legislators ought to make some sacrifices including foregoing part of their vacation to legislate on bills that would ensure rapid development of the country.
He said: "Our lawmakers think it is more important to fiddle while important issue lie unattended. If our "honourable" members were concerned about the state of the oil industry, the engine of the Nigerian economy, they would have known that no new project has been sanctioned in the industry since PIB was first proposed in 2009.
"With new discoveries of hydrocarbons all along the west coast of
Africa – Ghana, Sierra-Leone, Liberia as well as on the east coast – Tanzania, Kenya, Uganda, Mozambique not to mention our traditional rivals in the Gulf of Guinea, foreign direct investments have flowed to these new players with none coming our way in Nigeria".
Ogun said the delay witnessed by the bill had led to the various versions in circulation, maintaining the Nigerian oil industry has been in a state of suspended animation since 2009 with investors cautious about making investments.
"Industry workers are apprehensive about their jobs and the citizens are clamouring for the restructuring of the state oil company, Nigerian National Petroleum Corporation (NNPC) to ensure transparency and deliver more value to Nigerians," he said.