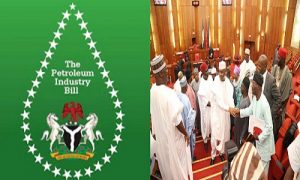 Mkpoikana Udoma
02 August 2018, Sweetcrude, Port Harcourt — Stakeholders in the Niger Delta region have asked the Federal Government to approve and institutionalised the 20 percent equity fund for host communities which is captured in the Petroleum Industry Bill, PIB. The PIB is before Nigeria's National Assembly.
The stakeholders pointed out that crude oil theft and illegal refining will continue unabated in the region until the issues of resource control is duly addressed,
The stakeholders made this known in a 12-point communique issued after a roundtable meeting on sustainable alternative to oil theft and artisanal refining in the region, organised by the National Coalition on Gas Flaring and Oil Spill in the Niger Delta, NACGOND, in Port Harcourt.
The communique read by the Coordinator of NACGOND, Rev. Father Edward Obi, said that if the 20percent equity fund is approved, there would be serious control on the menace of oil theft and artisanal refining of petroleum products in the region.
"The host community 20percent equity fund in PIB should be approved and institutionalized. The communities are alienated because they feel they are not benefitting from proceed of the oil.
"There is need to re-train those currently engaged in oil theft and artisanal refining to diversify their skills for legal refining in partnership with Government."
Also speaking, a university teacher and member, Ogoni cleanup governing council, Prof. Ben Naanen, disclosed that the reason oil theft and illegal refining have become common in the region was because the Federal Government has failed to meet the energy need of rural people.
Naanen said the failure of government to acknowledge that energy was basic in human daily living has created a huge gap which some youths who involve in illegal refining have taken up to fill, urging government to address the issue of resource control.