12 January 2015, Abuja – Over 200 incidences of crude oil and gas pipeline vandalism were recorded in the past six months, the Federal Government said on Wednesday.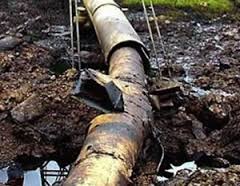 This, it said, was the major constraint to adequate power supply across the country, stressing that 81 per cent of power being generated in the country was from thermal generation plants, which were dependent on gas.
The revelation came as the National Association of Nigerian Students stated that the heads of Student Union Governments of universities, polytechnics and colleges of education would meet in Abuja on Thursday to decide on how to tackle the menace of vandalism and declare war on vandals.
Addressing a press conference in Abuja on Wednesday, the Minister of Power, Prof. Chinedu Nebo, said the sabotage of the pipelines by vandals had constrained gas supply to the power plants, a development that had seriously affected electricity supply.
He said, "There is no justifiable individual benefit to gas pipeline vandalism other than sabotage of the progress being made in the power sector. No justification for gas facilities vandalism other than sabotage.
"Over 200 incidences were recorded on the Trans Niger crude pipeline in the East, affecting Okoloma gas supply. These regular interruptions on the Trans Forcados crude oil pipeline affect gas supply in the West. Sabotage incidents have constrained gas supply to power plants and held generation at less than 4,500MW."
According to Nebo, a loss of 200 million cubic feet per day of gas is equivalent to a reduction of 700 megawatts of power generation, stressing that vandalism was threatening the sustainability of power supply to Nigerians.
The minister called on the citizens to protect these assets as they belonged to all, adding that people should "report any plans to vandalise our nation's power and crude oil assets. Reporting acts of vandalism is preventing the nation from falling into darkness."
– The Punch