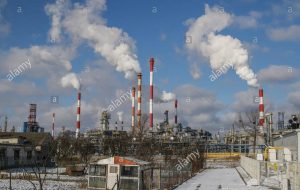 Warsaw — Poland's PKN Orlen on Friday reported a four-fold jump in fourth-quarter net profit, boosted by recent acquisitions and a strong refining performance.
The state-controlled refiner posted a net profit of 16.37 billion zlotys ($3.67 billion) for the quarter ended Dec. 31, compared to 15.94 billion zlotys expected by analysts and 4.14 billion zlotys a year earlier.
The results include its Lotos business and partial PGNiG earnings after Orlen took over its peers in line with the government's drive to tighten control over the economy and create "national champions".
"Fourth quarter results show unequivocally that the merger between PKN Orlen, Grupa Lotos and PGNiG made sense and is already giving tangible results," CEO Daniel Obajtek said in a statement.
The group's EBITDA LIFO during the period rose to 16.06 billion zlotys from 4.26 billion zlotys, mainly due to the consolidation of Lotos and PGNiG, which boosted the figure by 7.4 billion zlotys.
Refining produced EBITDA LIFO of 10.91 billion zlotys, with installations almost fully utilized, running at 98% capacity amid petrol sales volumes that surged 30% and diesel 53% on the year.
"The 4Q22 was a strong period for the company, driven by refining and upstream primarily. The outlook for 2023 is slightly worse…" Erste Securities analysts wrote in a comment.
The analysts pointed to a recent drop in refining and petrochemical margins and hydrocarbon prices.
Orlen flagged that it expects refining margins to fall in 2023 as economic activity slows down and fuel supplies increase, in addition to lower petrochemical margins and differentials.
The company sees capital expenditures (capex) for the year at 36.2 billion zlotys, up from the previous record realised capex of 19.6 billion zlotys in 2022 which included the acquisition of Lotos and PGNiG.
Of the planned 2023 expenditures, 26.2 billion zlotys are intended for growth, includingfor maintenance. The refining segment will see 9 billion zlotys in investments.
Orlen is scheduled to announce its new strategy on Feb. 28.
At 0845 GMT Orlen's shares were down 0.3%, with Poland's blue chip index up 0.1%.
Reporting by Marek Strzelecki and Karol Badohal; Editing by Nivedita Bhattacharjee and Kim Coghill – Reuters
Follow us on twitter