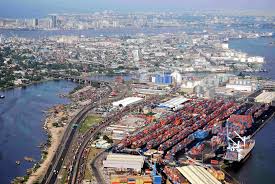 27 July 2014, Lagos – The Lagos State Police Command has arrested a couple, Mr. Danladi Wushishi, and Mrs.Ojuolape Wushishi, for allegedly duping unsuspecting victims to the tune of N20 million in fake Customs auction sales in Lagos.
Ojuolape was arrested on Wednesday, June 18, at Odeogbolu Street, Ijegun while her husband who claimed to be a freight forwarder practicing at Tin Can Island Port Complex, Danladi, was apprehended at Allen Avenue on Friday, June 25.
It was gathered that the couple were arrested after a petition to the Commissioner of Police, Umar Manko, from one of the victims, Mrs. Chinyere Uzorchukwu, who was allegedly duped by the couple to the tune of N5million.
The Special Anti-Robbery Squad operatives had subsequently gone on the trail of the couple and arrested them.
The Wushishis had allegedly taken money from their victims under the pretext that they had a container load of goods meant for Customs auction sales at one of the Customs commands in Lagos.
It was further learnt that prior to the incident, the couple normally took their victims to a fake Customs' warehouse in Ikorodu, Lagos, and showed them containers which were sealed. However, after payments had been made, the victims would wait endlessly expecting their goods, which never came.
Apart from Uzorchukwu, the police said the couple had also duped one Nkechi Anokwuru of about N3.5 million and one Mr. Livinus of about N19 million in the fake auction deals.
Danladi, 46, who hails from Niger State, confessed that he took the money from the victims without having any goods anywhere.
He said, "I am a businessman and I am also a freight forwarder at the Tin Can Island, Lagos. I have been doing this business for about eight years. The cargo in question has an allocation paper that read clothes, but when I got there, I saw that it only contained books.
*Ifeyinwa Obi-Vanguard