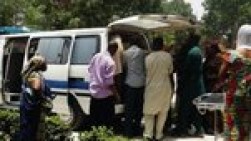 12 March 2013, Abeokuta – A police officer and his adopted son were electrocuted on Sunday at a construction site in front of the governor's house at Oke-Igbein, Abeokuta, the Ogun State capital.
The police office'is Sunday Joseph while his 17-year-old son, an orphan, who lost his father in a robbery attack, is known as Moses.
Moses had reportedly left the Police Barracks for the construction site in search of disused iron rods and died as he was returning with the iron rods when the rods had contact with a Power Holding Company of Nigeria, PHCN, high-tension wire. He was instantly shocked to death.
An eye witness to the incident had gone to call the police officer, who, on sighting his adopted son's lifeless body on the ground, had rushed to save him.
He was equally electrocuted as the both the boy and the rods were still in contact with power line.
Joseph was said to have arrived the scene in a Volkswagen Golf car with registration number Lagos FB 359 APP.
Attempts to prevent him from touching the boy's body failed as he was said to have suddenly disengaged from those holding him back before rushing to the boy and being electrocuted.
An attempt was made to rush him to the hospital but his car, which was the only available there, could not start due to start due to the security mechanism fixed in it.
The remains of the two were later taken to the State Hospital in Ijaye, Abeokuta.
PHCN's Public Affairs Manager in Abeokuta Districts, Richard Oyewole, confirmed the incident, saying investigation would be conducted on the matter.