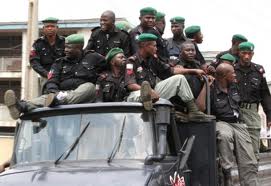 Olasunkanmi Akoni
& Monsur Olowoopejo
03 January 2012, Sweetcrude, LAGOS – A new dimension was added to the protest against the removal of fuel subsidy on Tuesday, when some officers of the Nigeria Police Force in Lagos staged a peaceful demonstration to register their disapproval over the sudden removal of fuel subsidy by the Federal Government.
According to eyewitnesses, policemen numbering over 200 were seen in the early hours of Tuesday demonstrating through Oregun Road area of Ikeja and heading towards Alausa, the Lagos Government House, Ikeja.
The policemen were chanting anti-government slogans.
However, the unidentified, unarmed police protesters later dispersed mid-way, thereby terminating their earlier plan to march to the office of Governor Babatunde Fashola who was said to be indifferent to the protest.
One of the protesters who did not want his name mentioned in print, said that they joined in the protest because the police are the most affected by the fuel subsidy withdrawal.
"Our salary is paltry, how do we make up for the corresponding consequences on the economy and subsequently on our pockets. We are against the fuel subsidy removal."