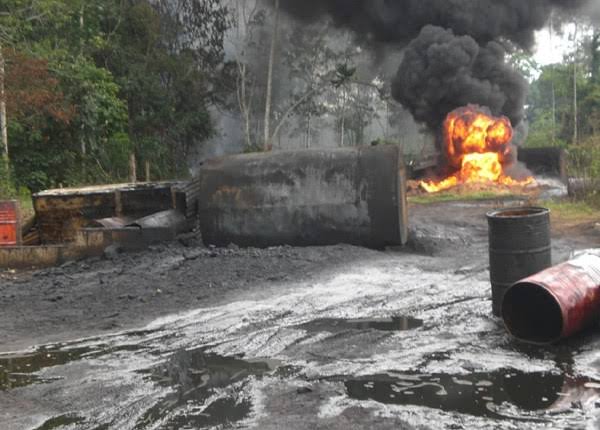 Mkpoikana Udoma
Port Harcourt — The Niger Delta Development Commission, NDDC, has expressed reservations with the strategy being adopted by the security agencies in addressing the challenge of oil theft and illegal oil refining in the Niger Delta.
Acting Managing Director of NDDC, Dr. Joi Nunieh, stressed the need for urgent intervention, in order to combat the problem of air pollution in the Niger Delta region.
Nunieh, disclosed this when she visited the Sole Administrator of Rivers State Waste Management Agency, RIWAMA, Dr. Felix Obuah, in Port Harcourt, said the Commission placed a lot of premium on the health and well-being of the Niger Delta people.
Nunieh, who was represented by NDDC Acting Executive Director, Projects, Dr. Cairo Ojougboh, also pledged to collaborate with RIWAMA, to combat pollution in the state.
"It is very disheartening that when our security agencies apprehend illegal oil thieves, they set the stolen crude on fire. What you have done by burning the crude is worse than stealing the crude. They can be properly disposed.
"It has become imperative that we do something about the rate of air pollution in the state. It is sad to point out that the life expectancy in Nigerians, especially Niger Deltans, is low and with the increasing air pollution, it will get worse. Suits are spreading everywhere.
"We must first address all the sources of pollutant in the state, and most importantly partner with RIWAMA to enable us save the lives of the next generation.
"It is very alarming to note that the rate of pollutants in Rivers State, especially in Port Harcourt is on the rise, and it is endangering the well-being of our people. Cases of kidney failure, cancer are currently on the rise."
Responding, RIWAMA Sole Administrator, Dr. Felix Obuah, commended the NDDC Interim Management Committee for putting aside politics and focusing on the growth and development of the Niger Delta region.
Obuah noted that the last time the Waste Management Agency felt the impact of the NDDC was in 2007, when 15 sewage trucks were donated by the Commission.
"This is the first time a top management officer of the NDDC will pay a visit to this office to discuss issues affecting our health and environment to find a way forward."
He appealed to other corporate bodies and agencies operating in the state to emulate NDDC in seeking to pull resources together to solve common problems, saying "We need more partnerships like this because to rectify this issue, we must all come together since it affects us all."