*Large power stations will include batteries, so-called peakers
*Conventional generators are realizing need for flexibility
22 August 2018, London — European utilities are seizing on the increasing importance of providing flexibility to the power grid. Not to be left behind, they need to not only change their operating strategy but also modernize their generation fleet so it can rapidly respond to volatile system conditions.
This means future large power stations—such as RWE AG's Tilbury and Drax—will be hybrids, incorporating batteries and gas-fired peakers, according to Bloomberg NEF. The change will make them more dynamic, both operationally and in terms of reinventing their business model as market needs and values shift.
These conventional generators have had a rough ten years in Western Europe's wholesale power markets. And it is clear the need for flexible generation is not about to go away—on the contrary, it is only going to rise. Utilities are realizing that in today's system it pays to be able to quickly ramp their own generation up or down in response to changes in demand or renewables coming online. As a result, they are changing their strategy so their power plants can increasingly capture value from providing flexibility.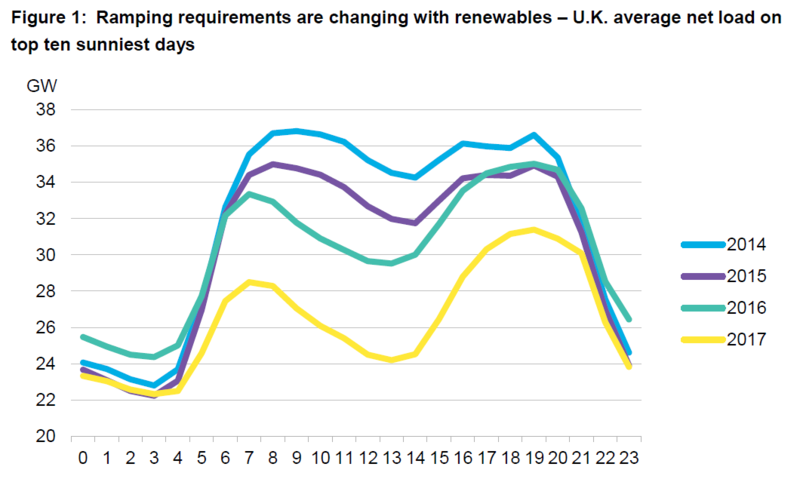 Wind and solar have changed the rules of the game. Traditional large fossil generators, which have historically provided the bulk of balancing services, are no longer making the cut due to the need for steeper ramp-rates, shorter cold-start times and operation at lower minimum stable levels. For example, a mooted update to frequency response services in Great Britain saw response time requirements go from ten or more seconds to less than one—a requirement that only the fastest technologies, like batteries, can meet.
To capture the value of flexibility, a new breed of power stations is being designed. RWE's Tilbury Energy Centre will include a 2.5-gigawatt combined-cycle gas turbine with a 300-megawatt gas peaker and a 100-megawatt battery. Drax Group Plc has similar plans that aim to convert its two remaining coal units into a 3.6-gigawatt CCGT paired with 200 megawatts of battery storage.
Not only will these new power stations be able to stack different revenue from, for example, frequency response and energy arbitrage but, more importantly, they will have the freedom to reinvent their business model as market needs evolve and value is displaced. So the wholesale power market is having a bad year? No problem, focus on the balancing mechanism. If that stops working, switch to ancillary services—or why not try all three at the same time?
There are also other advantages. Placing all assets in the same site should streamline planning and permitting and reduce grid-connection costs. Having a large generation asset, expected to run frequently, means you can charge batteries directly. This avoids having to modify existing generation licenses to allow bidirectional power flows—a process that is not straightforward and can be a barrier to deploying storage assets.
One big challenge for these jacks-of-all-trades will be to avoid not quite being competitive at any one particular application. These power stations will have to compete across different markets where there will be more specialized and cheaper generators. But on the other hand, less flexible assets are already scrambling to find value across different markets. New flexible plants should have a field day competing against them.
*Diego Marquina – Bloomberg