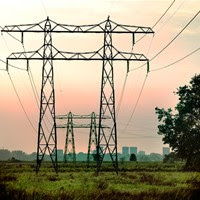 Kunle Kalejaye
10 July 2012, Sweetcrude, LAGOS – A DROP is expected in power supply in Nigeria, as the Power Holding Company of Nigeria, PHCN, distribution equipment in Lagos, suffered huge damage.
The damage was caused by a truck driver who crashed into an 11KV distribution pole at the junction of the new Oko-Oba Road, Abule-Egba, Lagos.
The damage affected the Otta-Ogba 132KV Transmission Line cutting the line and rupturing the cross arm of Transmission Tower NO 19, located at Abule -Taylor which is about 2.5 kilometer from where the incident occurred.
Mrs. Celestina Osin, the Public Affair Officer of Transmission Company of Nigeria, TCN, said a team of engineers have already been mobilized to the site to commence repair works.
"The repair work is expected to last for weeks and it will cost some millions of Naira as the damaged cross arm on the tower will be repaired and five spans of aluminum conductor (line) will be replaced from Transmission Tower 16 to Transmission Tower 19 and the aluminum conductor that sagged on Transmission Towers 19-21 will be retensioned properly."
She said areas affected by the damage include: Ikeja Industrial Estate and Agege, adding that they are already been back fed from another source.
According to her "TCN therefore use this medium to advise drivers to be careful, in order to reduce incidence such as this, as the money that will be spent on repairs of damaged electricity equipment due to their carelessness could be used to further improve electricity supply to the esteemed PHCN customers.
It also pleads for understanding by customers of the organisation for the period the repair works will last.