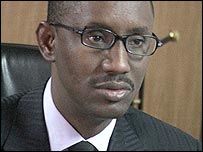 11 July 2012, Sweetcrude, ABUJA – MALLAM Nuhu Ribadu, chairman of Nigeria's Presidential Task Force on Petroleum Revenue, says the Petroleum Products Pricing Regulatory Agency, PPPRA, should be held responsible for the corruption bedevilling the nation's fuel subsidy scheme.
He spoke at the July edition of the Nigerian Electricity Regulatory Commission (NERC) 'Distinguished Guest Conference' in Abuja on Tuesday.
The former chairman of the Economic and Financial Crimes Commission, EFCC, said the agency failed the nation in its appointed task of regulating the downstream petroleum sub-sector under the Petroleum Support Fund (PSF).
According to Ribadu, there is no way the PPPRA could have claimed ignorance of the underhand dealings in the scheme while its officials can not be exonerated from the sustained corruption in the administration of the PSF.
"Nobody can take a penny from the government unless the government allows it. If I were to head the panel on fuel subsidy, I will catch everybody in PPPRA because nobody can steal such amounts of money if the PPPRA did not allow it," he said.
"They have all the documents to detect any form of anomalies; bills of laden and what have you, but they never made use of these and they expect to be declared innocent of such dealings within their domain," he added.
He disclosed that his Task Force was yet to submit its report to President Goodluck Jonathan, stating that though the report had nothing to do with ongoing issues in the fuel subsidy scheme, "it has a direct correlation with responsibilities of regulatory agencies, particularly the downstream oil sector that I mentioned earlier, which is also a failure of regulation".
He added: "Regulatory failure is directly responsible because it is government money and when it goes out, it has to go through somebody who is a government employee and given the responsibility to protect it and make sure that we get value for it.
"So it must be under some conspiracy that such monies could get missing. Therefore, one would easily and comfortably come to the conclusion that it was a failure of those with such responsibility and we would want to see justice done for those who allowed our money to get out."
On the seeming slow pace by the EFCC in concluding investigation on those indicted for fuel subsidy fraud, Ribadu said investigative briefs of that nature were not hastily concluded, but, must be handled with care to avoid any misunderstanding of the details in the process.