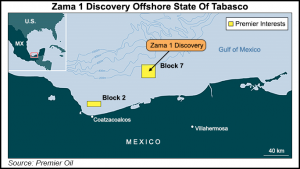 01 August 2017, Houston — Premier Oil, which completed its refinancing recently, said drilling operations had been completed for the final section of the Zama-1 exploration well.
It said the last stage of drilling had not uncovered any additional hydrocarbons.
Premier said in a statement: "Our estimate of the initial gross oil in-place volumes for the reservoir is, as previously announced, in excess of 1billion barrels of oil.
"The gross oil bearing interval in Zama-1 is over 1,100 feet. The well was completed on time and budget and has been suspended as a potential producer."
The Zama-1 venture partners – Premier, Talos Energy and Sierra Oil and Gas – are now analysing the Zama-1 data to decide the best way to develop the discovery.
Premier also said an injection well on the Brugman field was being completed as part of its Catcher project in the North Sea.
It is the last of the 12 wells scheduled for completion ahead of first oil.
Once finished, the rig will be moved back to Catcher at the end of August for the next batch of four production wells.