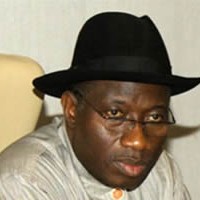 *Warns against increasing oil spill in the Niger Delta
Oscarline Onwuemenyi
01 March 2012, Sweetcrude, ABUJA – President Goodluck Ebele Jonathan has challenged Shell Petroleum Development Company, SPDC, to actively participate in the Federal Government's efforts at infrastructural development, especially power supply.
President Jonathan was speaking to a delegation of Shell, led by Mr. Malcolm Brinded, out-going Executive Director, Upstream International, who came on a farewell visit to State House, on Thursday.
He said, "Shell is the leading oil company in Nigeria, and we expect you to join our effort to build more power plants, so that the economy can grow, and provide more jobs for our youth", adding that the amnesty programme had provided a platform for training of more youths, and they will need jobs.
The President said the Nigerian Local Content law had enabled increased utilization of local products and manpower, but said there was room for improvement.
He expressed concern at the level of environmental pollution in the Niger Delta, and urged the incoming Executive Director, Mr. Andy Brown to take up the challenge of maintaining the integrity of the pipelines and checking oil spills.
President Jonathan expressed Nigeria's appreciation to Mr. Malcolm Brinded for his immense contributions to the Honorary International Investors Council in the past eight years.
Earlier, Mr. Malcolm Brinded, out-going Executive Director of Shell, said the company was very concerned about the oil spills in its operations and would do everything possible to check them, but added that they had no control over spills arising from theft of oil along their pipelines.
He expressed appreciation to President Jonathan for the cooperation and assistance he received from the government and people of Nigeria and said he enjoyed the warm friendship extended to him.