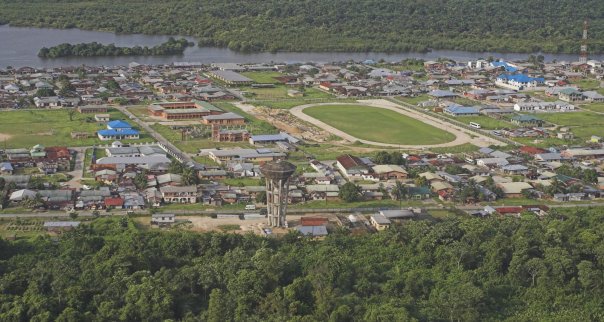 Mkpoikana Udoma
Port Harcourt — Finima Community in Bonny Local Government Area of Rivers State, has charged the National Assembly to prevail on the Nigerian Liquefied Natural Gas Limited, to recognized them as its host community.
The people of Finima said this when members of the House of Reps Committee on Local Content visited the area, following petitions sent by the community to the National Assembly requesting for recognition as the host of the gas multinational.
Chairman of the Council, Buoye Omuso Brown House of Finima, Wari-Alabo Inima Brown, said NLNG recognized Ogbum-nu-Abali and Amadi-Ama as the host communities of its corporate head office in Port Harcourt, and wondered why the company has refused to accord them same status as the community hosting all its gas liquefaction plants.
Brown said the demand for NLNG to accord them the status of host community was in line with the Nigerian Oil and Gas Industry Content Development Act of 2010 and the Nigerian Content Development and Monitoring Board, NCDMB's Community Content Guidelines.
"NLNG recognizes the following communities, Ogbum-nu-Abali in Rebisi Kingdom as host community and not Rebisi Kingdom; and Amadi-Ama as host community and not Okrika Kingdom.
"Nigeria LNG Ltd should also apply the same principle and recognize Finima Community as its host community. We are relying on your good sense of justice to look at the facts available and grant the petition of Finima Community."
Also, the Spokesperson of Finima Capacity Development Committee, Dr Bara Kabaka-Brown, tasked the lawmakers to give attention to the issues being advanced in the petition from the community and accord equity, fairness and justice its rightful place in the course of the Committee's investigation.
Brown said that having given up their ancestral homeland for the siting of the NLNG plant and other facilities, justice demands they are accorded their rightful status and attendant benefits as host community.
"We do not have any other place to go to. This is our land, this is our home, all we are requesting for is recognition that we are your host community and recognition comes with attendant benefits to us in terms of education, infrastructural development, social services, health and accumulated benefits."
Responding, Chairman, House of Representatives Committee on Host Communities, Dumnamene Deekor, said the visit was imperative in order to find a permanent solution to the problem, following receipt of petitions from the community.
Deekor assured that having concluded its engagements with concerned stakeholders, the committee would address issues contained in the petition.
"We have come to Finima in Bonny Kingdom and we have come here based on the fact that we are doing an investigation and we have interacted with the council of chiefs. Part of what we have to do to address this petition permanently and finally is why we are here.
"We have interacted with all the parties and we believe that we will be better informed and get back to them as soon as possible.
"We want to leave here with the understanding that you must work together and live together as one people, in less than no time we will take a final look at your request as contained in your petition and do justice to make sure that everyone is happy.
"By the special grace of God, the purpose of our visit today, is to see things for ourselves, meet and interact with the petitioners and also the cross section of the people of Bonny and every other stakeholders."