18 March 2015, News Wires – Brent crude slipped below $56 a barrel on bigger than expected oil stocks in the US, though losses were limited on a weaker dollar as the Federal Reserve signalled a slower pace of interest rate hike.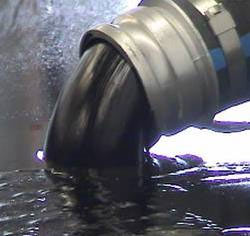 Brent crude oil futures for May delivery fell 22 cents to $55.69 a barrel early on Thursday, after jumping as much as 6% in the previous session. US. crude oil futures for April delivery shrunk by 53 cents to $44.13 a barrel, after ending the previous session three percent higher.
"The harsh reality of last night's build in inventory is starting to set in on oil prices," said Ric Spooner, chief market analyst at Sydney's CMC Markets.
"The weaker US dollar was supportive of commodity prices but another big build in inventory might mean the upside on oil prices is limited until there is some turnaround in US oil production."
US crude stocks rose by 9.6 million barrels last week, nearly three times as much as analysts' expectations, data from the Energy Information Administration (EIA) showed on Wednesday.
Crude stocks at the Cushing, Oklahoma, delivery hub rose by 2.865 million barrels to 54.4 million barrels, a record since the EIA began tracking inventories at the delivery point for the US light sweet crude futures contract traded on the New York Mercantile Exchange.
Oil prices had jumped on Wednesday as the US dollar fell after the Federal Reserve indicated it preferred a more gradual path to normalising US interest rates despite being open to the first rate hike in almost a decade.
A weaker dollar should support oil prices because it makes commodities denominated in the dollar cheaper for holders of other currencies and expands their purchases of commodities and other assets.
China, the world's second largest oil consumer, could trim oil purchases as its petroleum reserves reach capacity and oil refiners cut production, a move that could exacerbate the global glut of oil.
Still, some support for crude prices could be seen from India which is set to import 8 million barrels of Iraqi oil to fill its first strategic petroleum reserve (SPR), taking advantage of cheap prices.
– Reuters