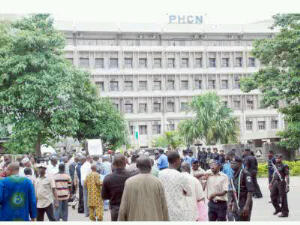 Oscarline Onwuemenyi
11 September 2012, Sweetcrude, ABUJA —AN investigative panel set up by the Nigerian government to audit existing financial activities around the controversial Power Holding Company of Nigeria, PHCN, Superannuation Pension Fund has uncovered about £2,204,814.18 of the company's total pension sum stashed away in a bank in the United Kingdom, UK.
The money which has been lodged in the UK's Barclays Bank for close to 21 years was said to have accumulated from pension deposits for expatriate workers of the utility by its officials long before it metamorphosed into PHCN.
Chairman of the eight-man government audit panel on PHCN pension, Mr. Joseph Ajiboye who is also a former Auditor General of the Federation, said however that the panel could not ascertain if officials of PHCN had continued to remit pension and gratuity deductions to the said foreign account considering that the last expatriate pensioner of the utility is reported to be late.
Presenting the report of the investigation, Monday, to the Minister of State for Power, Mr. Darius Ishaku, Ajiboye explained that its consideration of various financial audit activities of the in-house pension scheme of the company showed that its failure to fund the scheme was based on an excuse that it has perpetually operated at commercial loss, especially within these periods.
He noted that financial audits of the scheme from 1990 to 2010 which it studied in a bid to ascertain transactional trends in the account showed that from 1990 to 1999, a total of N1, 787,919,000 was paid out as pension and gratuities to workers while N51, 279,940,138 was paid out in the years 2000 to 2010.
The panel's report also indicates that PHCN has in the past 21 years failed to fund its in-house pension scheme, thus putting the future of its retiring workers in jeopardy. The report disclosed that currently the electricity behemoth has no money to fund the pension scheme.
It also discovered that some of PHCN assets which were assigned to fund the pension scheme had been purportedly sold off.
According to Ajiboye, the financial documents studied by the committee showed that a total of N5,367,859,138 was paid out as pensions and gratuities to PHCN workers within these periods, adding that an actuarial sum of N107 billion was equally set aside by the utility as contingent sum.
The immediate past Minister of Power, Prof. Barth Nnaji set up the panel with a 30-day lifespan to investigate the status of pension in the power sector vis-à-vis the pension laws, identify officers involved in any act of misconduct in the management of pension as well as review pension matters in the Agari committee report.
This was following allegations of illegal operation of and deductions from an in-house pension scheme that runs contrary to extant pension laws in the country,
The panel was also expected to recommend measures to guard against occurrence of similar incidents in the future as well as sanctions against culprits.
The report said PHCN has for years operated an in-house defined pension scheme codenamed "the superannuation pension fund", with only the management and leaders of its trade unions as its trustees; this arrangement however runs contrary to provisions in the Pension Reform Act, PRA, 2004 which came into operation in 2007, and has however been frowned at by the Federal Government.
According to Ajiboye, "When we looked at all the financial statements that had been audited as far back as 1990, we found out that between 1990 and 1999, the total pension and gratuity paid under the superannuation fund was N1,787,919,000, both gratuity and pension were less than N2 billion paid and it is understandable because of the low level of salaries and wages paid in the 90's.
"From 2000 to 2010, the total pension and gratuity paid was N51, 279,940,138 and so for the 21 years running, the total gratuity and pension paid under the superannuation fund to all pensioners was N5,367, 859,138, that is all that has been paid since 2010 and these accounts had been audited and confirmed as real and applicable figures."
He further noted that, "We had an issue of N107 billion which was an actuarial valuation and was a contingent liability; it is not as if any money was paid out of that.
"We also spoke with the National Union of Pensioners who gave us a historical background of the scheme which they traced to the ECN and the Niger Dam
Authority and how the issue of 25 percent arose; we have a paper from them that shows that there was no deduction of the percentage from the salaries of any worker up till April this year, they also showed evidence that when the ECN and Niger Dam were collapsed into one, they all decided to maintain one scheme but it was not contributory.
The panel further observed that "certain properties were given to the superannuation fund to bring income in addition to whatever PHCN would contribute but unfortunately we found out that one of the properties in Kado Abuja was purportedly sold and we didn't find out if there was any money remitted from such sale.
"Another one is a storey building in Lagos that was ceded to the Federal Inland Revenue Services by PHCN because it was owing taxes that it could not pay. The recurrent expenditure of PHCN is not provided by the government but its capital expenditure.
"We found out that a total of £2,204,814.18 million of PHCN pension money is still in London laying idle as accumulated monies from pension deposits for expatriate workers of the former ECN and Niger Dam Authority; we understand that there have been efforts to retrieve the money that is lying idle in the Barclays Bank," Ajiboye stated.
The panel however recommended amongst other things that a full audit of accounts of PHCN successor companies be carried out to ascertain their levels of accountability with funds given to them by the Market Operator.
Ishaku in his remarks, expressed gratitude to the panel which he noted had done a thorough job that will quicken outstanding negotiations with PHCN unions on the privatisation exercise.