03 January 2012, Sweetcrude, LAGOS – Hundreds of protesters have taken to the streets in Lagos, over the removal of the fuel subsidy. From Ikorodu to Onipanu, Fadeyi to Ojuelegba, Idioro, Ojota and Mushin, protesters were in action.
While some lit bonfires, others simply lay down on the highways, displaying anti-subsidy removal placards.
However, the Nigerian police have fired tear gas to disperse the crowd burning tyres.
In the northern city of Kano, the Police have arrested demonstrators as protests continued over soaring fuel prices.
A group of people were burning tyres on a main road on the margins of a protest in the economic capital of Lagos when police fired tear gas, causing them to flee, an AFP correspondent reported.
"We will not leave the streets until fuel prices come back to 65 naira," one man who identified himself as Tunde said earlier as he carried a container of fuel to pour over tyres.
There has been widespread opposition to a government move announced Sunday ending fuel subsidies, which has caused petrol prices to more than double in a country where most people live on less than $2 per day.
The policy in Africa's most populous nation and largest oil producer saw petrol prices soar to about 140 naira (0.66 euros, $0.96) per litre from 65 naira.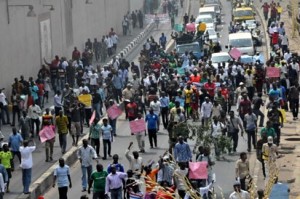 An earlier protest in Lagos of a couple hundred people included prominent rights activists as well as Seun Kuti, son of the late legendary musician Fela Kuti, a harsh critic of Nigeria's corrupt regimes.
Police moved in quickly to prevent a protest in Kano, the largest city in Nigeria's north, arresting nine people preparing for a demonstration at a football pitch they renamed "Freedom Square," an organiser said.
"The nine of us, the organisers of the sit-in protest, are now being detained at the police metropolitan division," Audu Bulama said by phone before it was seized by police.
"As we were gathering, 20 armed policemen came in three vans and dispersed the crowds of about 40."
Police did not respond to requests for comment. Separate protests broke out later, including a couple hundred people near the state parliament building in Kano.
In the capital Abuja on Monday police also used tear gas to disperse a protest there. The country's main trade unions are threatening protests in the coming days.
Economists and government officials view removing the subsidy as essential to allow for more spending on the country's woefully inadequate infrastructure and to ease pressure on its foreign reserves.
Nigerians however see the subsidy as their only benefit from the nation's oil wealth.
The government says more than $8 billion was spent in 2011 on fuel subsidies.