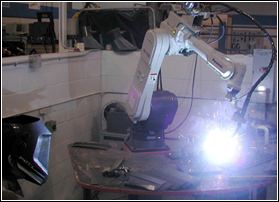 1 November 2011, Sweetcrude, Lagos – Nigeria's Petroleum Training Institute (PTI) in Effurun, Warri, Delta State has gained international recognition. It is now a world accredited centre for certification in welding engineering.
The institute was establsihed more than 40 years ago by the Nigerian government to develop manpower skills for the oil and gas sector.
Mrs. Clara Dennar, acting principal and chief executive officer of the institute, disclosed this at a workshop in Lagos for training mangers of oil and gas and allied companies.
Describing this as a big achievement for the Nigeria, Dennar stated that in order to keep pace with world standards and trends, PTI was being repositioned and redirected to deliver professionalised set goals.
She said one of the areas in which the institute is rebranding is in skill acquisition, adding that the PTI plans to adopt the Danish Production concept.
She said: "We have, therefore, introduced short certificate courses that will run for three to nine months in different specialised fields. We are, therefore, fully prepared to run courses that are fit for the purpose to meet the specific training needs of organisations in the oil and gas sector in Nigeria."
Dennar enjoined participants at the workshop to discuss such topical issues as the Petroleum Industry Bill (PIB) to keep stakeholders abreast of its implications and prepare for its prospects and challenges for the industry. She added that other issues, such as meeting growing technology expectations were timely and appropriate.
Mr. Monday Otabor, Deputy Managing Director, Addax Petroleum Development Company (Nigeria) Limited, sponsors of the event, said the company believed that highly skilled workforce was the foundation for truly sustainable development and success of organisations and the nation.
This, he said, is why Addax Petroleum invests highly in human capital development in both the country and abroad and also forms the fulcrum of its relationship with PTI.