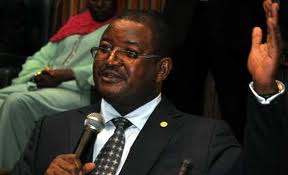 07 May 2013, Sweetcrude, Houston, Texas – The Nigerian National Petroleum Corporation, NNPC, says various factors are militating against the establishment of greenfield refineries in the country, chief among which is the regulated nature of the nation's downstream petroleum sub-sector.
Mr. Andrew Yakubu, Group Managing Director, GMD, of the NNPC made the disclosure at the venue of the on-going Oil Technology Conference, OTC, at Reliant Park in Houston, Texas as he interacted with journalists.
"There are quite a number of things that are wrong, no investor will come and invest in a regulated environment.
"Today, the petroleum products are regulated and there are quite a number of things we need to do upfront to ensure that the business environment is conducive for investors to come and invest.
"So, it is not about Chinese or any other person bringing money; nobody is going to bring free money," he told the journalists.
But, he stressed the importance of the establishment of new refineries, saying national consumption was currently far in excess of output.
"Our consumption is over 35 million litres on daily basis, and current in-country capacity is about 17 million litres.
"There is no doubt that we need the Greenfield so that we can make progress in this critical aspect of our energy requirements. But we must get the business model right," he added.
Moreover, the NNPC GMD stated that population explosion and increased economic activities as has been seen in the country in recent years, have brought about increased local demand for fuel, which has not been matched with corresponding refining increase.
He disclosed that efforts were on to rehabilitate the nation's local refineries, which have started yielding results with the recovery of 10 million litres last week, adding that with this development, the situation could only get better.
Yakubu, who also spoke on the contributions of indigenous operators to Nigeria's crude oil production capacity, said: "Indigenous participation has not been high enough, but I must say, it has significantly improved over time.
"As at last year, we had just about 10 per cent of total crude oil production. But because of increased government attention to expanding the capacity of upstream participation, within the last year or two, we have had significant divestment of assets from the majors and those assets were the ones that the majors actually did not focus much attention on.
"Shell in particular divested their equity share in about five assets and they were taken up by indigenous participants."
He maintained that a number of other assets are being prepared for farm-in by indigenous players as he added that ongoing divestments by ConocoPhillips and Total, may also be taken up by indigenous operators.