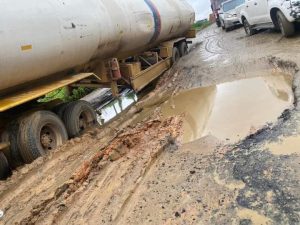 – Cites deplorable East-West Road 
Mkpoikana Udoma
Port Harcourt — The Chairman of Eleme Local Government Area of Rivers State, Mr. Obarilomate Ollor, has issued 14days ultimatum to the Nigerian National Petroleum Company Limited, NNPCL to release funds for the construction of Eleme axis of the East West Road, or face the wrath of the people.
Ollor said the federal government had directed the NNPCL to release funding for the fixing of the Eleme section of the East-West Road, which houses the Port Harcourt Refinery, Indorama-Eleme PetrochemicalsL td, OGFZA, federal ocean terminal, Naval training college, Nigerian Port Authority, amongst other multi-billion national assets.
According to him, his meeting with the former Minister of Works and Housing, Babatunde Fashola led to the point where the Buhari-led administration gave final approval for the construction of the road during FEC meeting and a further directive to NNPCL to fund the project through its tax credit scheme.
He expressed regrets at the level of pain and suffering which the people of Eleme, and other road users go through while using the road following its near unusable state.
"The road is at its worst state ever and has now become a death trap and source of economic crisis for citizenry following recent accidents, loss of manpower due to the gridlock experienced.
"I am appealing to NNPCL to release the funds between now and end of the month to avoid any action from the people, we want to see RCC mobilized to site within the next two weeks, our people are suffering, dying, losing their jobs because gridlock, we cannot continue to keep quiet to see this happen in our place, we are not insensitive to our people's plight, we want action taken quickly."
The Eleme Council boss further disclosed that he has interfaced with RCC which is the company to carry out the construction and all they are waiting for is to be mobilized to site.
He commended the Senator representing Rivers Southeast senatorial district, Sen. Barry Mpigi and the Member representing Eleme, Tai, Oyigbo in the House of Reps, Mr Felix Nwaeke, who he said brought the issue before the National Assembly, as well as other stakeholders who have made efforts to draw federal attention to the road.
Follow us on twitter