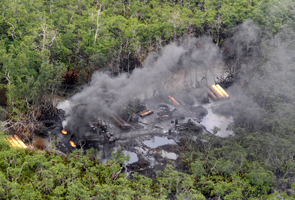 Oscarline Onwuemenyi
30 September, 2011, Sweetcrude, Abuja- The Chairman of Revenue Mobilization Allocation and Fiscal Commission (RMAFC), Elias Mbam has charged the Nigerian National Petroleum Corporation (NNPC) and other stakeholders to stamp out oil theft and pipeline vandalism in order to boost oil revenue generation.
Mbam who led members of the Commission on an inspection tour of facilities at the Port-Harcourt Refinery and Petrochemical, a subsidiary of the NNPC, urged management and staff of the Company to collaborate with security agencies, revenue generating agencies, civil society, mass media and host communities to check pipeline vandalism and oil bunkering for increased revenue generation.
The RMAFC boss noted that that the country has lost billions of naira due to illegal bunkering and oil theft, adding that proactive and effective steps should be taken to check the loss.
He further expressed disgust at the manner in which economic saboteurs siphon Nigeria's oil resources which would have been channeled for development adding that such ignoble act destroy our economy, undermine national security, defile our environment, damage our image and deprive our youths of a brighter future.
According to him, "The activities of unscrupulous elements who steal the oil that could be sold for the benefit of the entire nation are causing so much stress to the government of the day. Government is faced with huge costs and other infrastructural needs that must be met, and therefore requires all the resources it can get from the proper and legal exploitation of the crude resources of the country.
"A situation where a few criminal elements appropriate these resources to themselves is unfortunate and should be checked. The NNPC and other agencies responsible for these oil wells should do better to stop the activities of these oil thieves."
Mbam noted that given the transformation agenda of the current administration, it has become expedient for all revenue generating agencies to support the agenda through transparent, accountable and timely collections and remittances of revenue to enable government carry out its development agenda.
The members of the Commission had earlier visited oil facilities at Brass Terminal, Obrikom Gas Plant, Bonny LNG, Amenam Floating Production, Storage and Uploading plant operated by Agip, Shell and Total Elf respectively.
In his remarks earlier, the Managing Director of PHRC, Engr. Anthony Ogbuigwe expressed his Company's readiness to partner with the Revenue Mobilization Commission on effective revenue generation in the oil industry which remains the biggest foreign exchange earner for Nigeria.
The MD who was represented by Mr. Dominic Ekpan, Executive Director Services said that continued oil theft, vandalism and the attendant shut downs of flow stations which greatly limits production and decreases revenue earnings must be condemned by all Nigerians .
Ogbuigwe therefore averred that the ugly incident plaguing the industry which scares away investors needs to be arrested if Nigeria is to maximize its oil revenue.