Lagos — Russia, China, and Turkey are expected to lead global working gas capacity additions, collectively contributing 54% of the total working gas capacity additions from planned and announced projects between 2021 and 2025, says GlobalData, a leading data and analytics company.
The company's report, 'Global Capacity and Capital Expenditure Outlook for Underground Gas Storage to 2025', reveals that Russia is expected to add planned working gas capacity additions of 634 billion cubic feet (bcf) by 2025, while announced projects account for the remaining 179 bcf.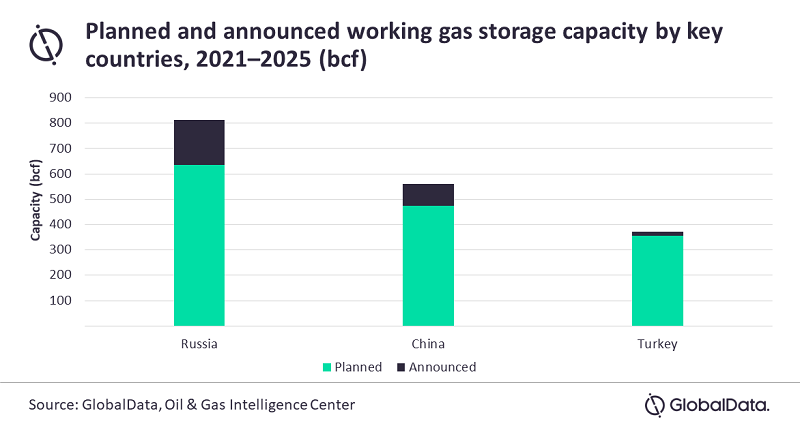 Bhargavi Gandham, Oil and Gas Analyst at GlobalData, comments: "In Russia, nine planned and announced projects are likely to start operations during 2021-2025 to meet growing peak demand in the autumn/winter season. Stepnovskoe II is the largest upcoming project in the country with a capacity of 198.8 bcf by 2025. Bednodemyanovskoye I and Kanchurinsko-Musinsky Complex II are the other major projects with capacities of 177 bcf and 167 bcf, respectively."
GlobalData identifies China as the second highest contributor to global working gas capacity additions, with planned capacity additions of 473 bcf by 2025. Announced projects account for the remaining capacity additions with 88 bcf. Liaohelei 61 projects dominate working gas capacity additions in the country, with a capacity of 406.1 bcf. The capacity additions help the country to effectively meet peak demand and decrease LNG imports during the winter season.
Gandham adds: "Turkey is expected to be the third largest contributor to working gas capacity additions globally with 372 bcf. Of these, planned capacity additions account for 355 bcf and announced capacity additions account for 17 bcf by 2025. Among the planned projects in the country, Tuz Golu II is the largest upcoming project, with a capacity of 148 bcf. It is expected to start operations in 2023."
Follow us on twitter