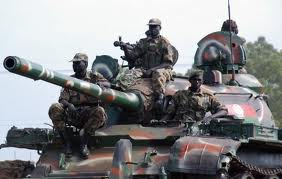 17 April 2014, News Wires – Oil workers at Russian company Safinat who were caught in crossfire between South Sudanese forces and rebels at an oilfield earlier this week appear to have been thwarted in their attempt to flee to the capital Juba.
The 10 employees, five of whom were injured in the serious incident on Monday at Unity oilfield outside Unity state capital Bentiu, were due to fly from a UN base in the region to Juba on Wednesday or Thursday.
A statement on Thursday from the UN Mission in South Sudan (UNMISS) in Rabkona, where the men were taken under guard on Monday afternoon, said that they remain at the compound as they await the reopening of the nearby airstrip.
The 10 were caught in crossfire at their camp early on Monday morning as gunmen loyal to rebel leader Riek Machar fought with government troops. One Kenyan worker was seriously wounded but was described as stable on Wednesday. Three Russians and a Ukrainian were also injured.
It was hoped that all five would be flown out of Rabkona on Wednesday, a Safinat spokesperson had told Upstream. The other five – comprising two more Russians and three South Sudanese – were due to follow on Thursday.
Upstream was unable to contact the South Sudan-based Safinat spokesperson on Thursday. The company is involved in a refinery at the Unity oilfield.
UNMISS said on Thursday it was "gravely concerned" by the fighting that has erupted in parts of Unity state, condemning the hostilities "in the strongest possible terms". As a result of the fighting, the number of internally displaced people in the Rabkona compound has risen to more than 12,000 since Monday.
Rebels have re-captured the key oil town of Bentiu from government forces, with UNMISS saying dead bodies are strewn along the roadside.
Reports also claim a dozen civilians were wounded after gunmen attacked an UNMISS base in Bor, the capital of Jonglei state – another oil-rich flashpoint.
Fighting broke out in South Sudan's capital Juba in mid-December after President Salva Kiir accused former vice president Machar of plotting a coup – something the latter denied.
Feuding quickly spread to other states, forcing the world's newest nation to shut in about one fifth of its production.
Peace has largely reigned in the oil-rich nation, however, following a truce agreed in late January in Ethiopia.
South Sudan split from Sudan in July 2011, taking with it three-quarters of the original country's oil reserves.
Khartoum relies heavily on revenues from oil production in South Sudan, which must use its neighbour's midstream and port infrastructure for exports.
– Upstream