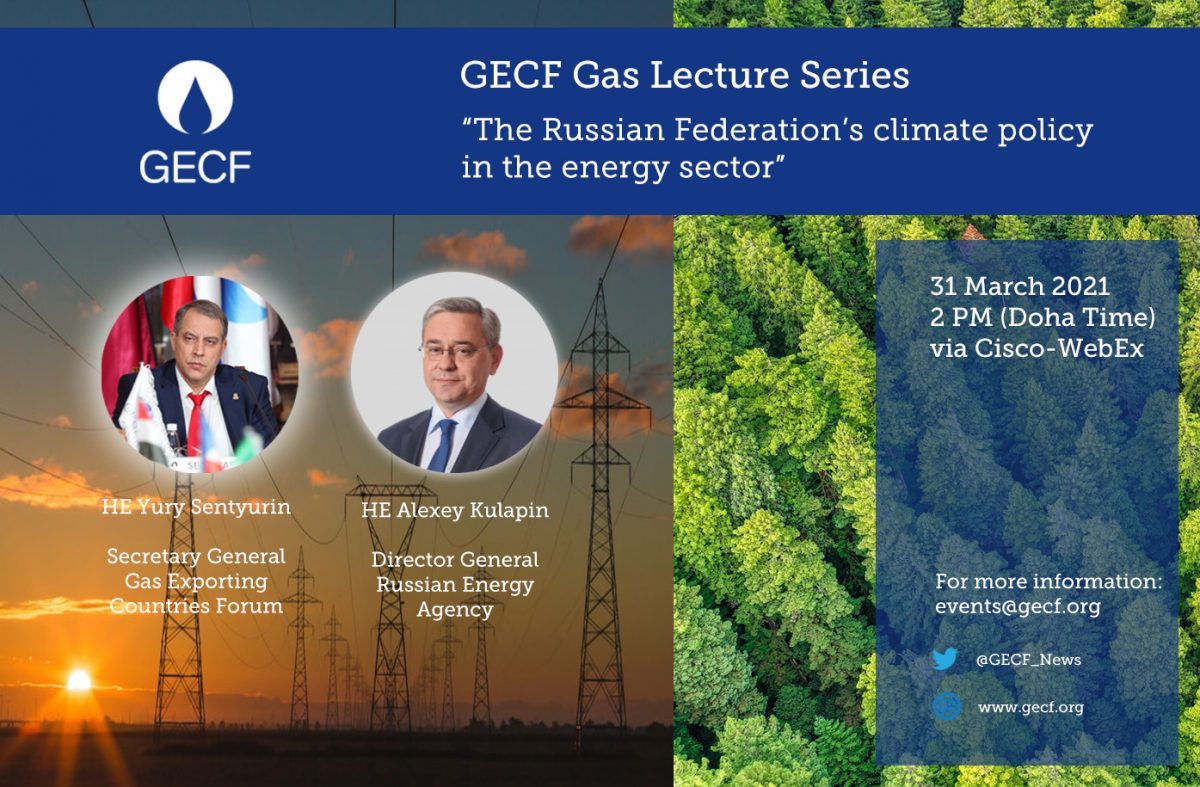 Doha, QATAR – The Gas Exporting Countries Forum (GECF), the global platform of the leading gas producing nations, will be hosting the 51st edition of its GECF Gas Lecture Series on Wednesday 31 March 2021 at 2:00 p.m. Doha time in the form of a webinar.
Featuring the Director General of the Russian Energy Agency Mr Alexey Kulapin, the lecture "The Russian Federation's climate policy in the energy sector", will highlight the steps the world's biggest energy exporter is taking to fight climate change.
Mr Kulapin was appointed to the position of Director General of the Russian Energy Agency in October 2020 to facilitate the implementation of the country's Energy strategy up to 2035, as well as the plans to harness and embed hydrogen engineering in the sector's development. Prior to this, Mr Kulapin held director level positions in the Ministry of Energy since 2001, overseeing energy efficiency and innovations.
Graduating in 1992 from Saratov Chernyshevsky State University in Chemistry, Mr Kulapin worked in executive positions in Russia's standardisation authority, known as Gosstandart, until 2002. From 2002 to 2011, he was also at the helm of the country's housing sector and energy complexes.
The Russian Energy Agency is a federal state budgetary organisation under the Ministry of Energy that provides implementation of the federal laws related to energy conservation and energy efficiency, and oversees the government's activities in the field of sustainable energy development.
The GECF lectures and workshops feature policymakers and experts, who are invited to share their knowledge and insights on contemporary issues related to the gas industry and its relationship with geopolitics, economy, and climate change. These activities form part of the GECF long-term strategy to promote natural gas as the fuel of choice for sustainable development.
The virtual lecture is open to public participation.