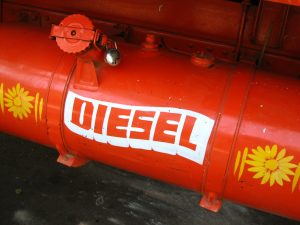 Moscow — Russia's seaborne diesel and gasoil exports are set to rise in June amid growing oil products output after refinery overhauls and sufficient stocks on the domestic market, data from traders and Refinitiv Eikon showed.
According to Refinitiv data and Reuters calculations, total diesel and gasoil exports from Russian ports rose in the first half of June by 5% to the same period in May to about 1.5 million tonnes, while ultra-low diesel exports increased almost by 15% to about 1.1 million tonnes.
Russia's offline primary oil refining capacity is expected to rise by 0.7 million tonnes in June from previous plan to 3.7 million tonnes, but still would be below the offline capacity in May, when it reached 4.95 million tonnes, Refinitiv data shows.
Since the full EU embargo on Russian oil products took effect on Feb. 5, traders have diverted diesel exports from Russian ports to countries in Africa, Asia and the Middle East. Previously, Europe was the main buyer.
In June, Turkey remains the top destination for diesel exports from the Russian ports, totalling so far about a third of total supplies, Refinitiv data shows. The port of discharge had yet to be confirmed for around half the cargoes.
About 150,000 tonnes of diesel from the Russian ports were sent to Brazil since the start of June, another 93,000 tonnes and 70,000 tonnes – to African Morocco and Ghana, respectively.
Still, about 200,000 tonnes of Russian diesel are destined so far in June for STS loadings near the Greek port of Kalamata and for STS near Malta. The final destinations for those volumes are as yet unknown.
"Usually, these cargoes are heading further to Turkey and Middle East countries," one trader said.
Another 200,000 tonnes of diesel loaded in Russian ports since the start of June do not yet have a confirmed destination.
All the shipping data above are based on the date of cargo departure.
(Reporting by Reuters Editing by David Evans) – Reuters
Follow us on twitter