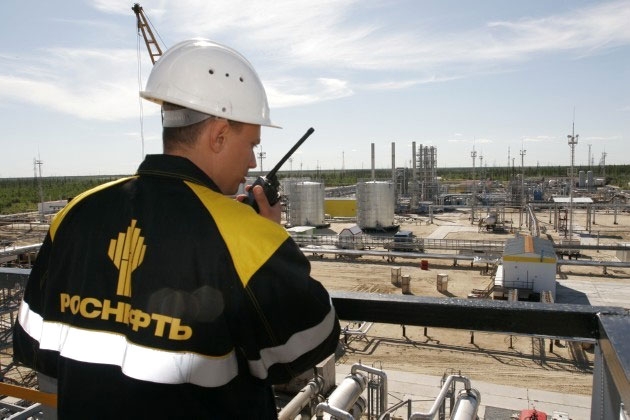 Moscow — Rosneft (ROSN.MM), Russia's largest oil producer, said on Wednesday its output of oil and gas condensate dipped in the second quarter from the prior three-month period due to an agreement with OPEC+ group of oil producers to curb production.
The quarterly production dropped 2.2% to 3.9 million barrels per day, Rosneft said, adding that its first-half sales reached 3.9 trillion roubles ($41 billion), down by more than a quarter from the previous year due to weaker oil prices.
Still, revenue in the reported quarter increased 12.1% to 2 trillion roubles.
The company, led by Igor Sechin, a long-standing ally of Russian President Vladimir Putin, said on Tuesday its January-June net income reached 652 billion roubles, without providing comparable figures.
Profits for global oil majors this year have dropped by about half from a bumper 2022, when Russia's actions in Ukraine sent oil and gas prices soaring.
Kremlin-controlled natural gas giant Gazprom (GAZP.MM) said on Tuesday it posted a net loss of 18.6 billion roubles in the second quarter of 2023 after a net profit of 1.03 trillion roubles a year earlier following the collapse of gas exports to Europe.
The Organization of the Petroleum Exporting Countries (OPEC) and its allies, led by Russia, began limiting supplies in late-2022 to bolster the market and in June extended supply curbs into 2024.
Russian companies have not been disclosing their financial results regularly since the start of what the Kremlin calls a "special military operation" in Ukraine in February 2022.
Russia divested its oil sales away from Europe to Asia and other global regions after the West imposed sanctions, including an embargo on Russia sea-borne oil purchases, over Moscow's actions in Ukraine.
The Russian government has changed taxation amid rising budget spendings.
Sechin said in a statement on Rosneft's website on Wednesday that the changing tax environment, including legislative changes already enacted and new initiatives, "makes the company's operations more challenging".
The company managed to show sustainable financial performance due to efforts to control costs despite market price volatilities, he said.
Rosneft's earnings before interest, taxes, depreciation and amortization (EBITDA) in the January-June period declined 5.1% to 1.4 trillion roubles.
The drop in EBITDA was less pronounced than the revenue slump due to an increase in sales to Asia, the company said, mainly to India and China.
($1 = 95.4205 roubles)
*Vladimir Soldatkin & Olesya Astakhova; editing: Jacqueline Wong & Sherry Jacob-Phillips – Reuters