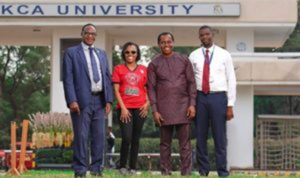 Oritsegbubemi Omatseyin
Lagos — Leading energy and infrastructure conglomerate, Sahara Group and Kenya Universities Deans of Students Association, KUDSA, have organized a creative writing contest for university students in Kenya as a platform for fostering a better understanding of the issue of energy transition.
Powered by the Sahara Group Foundation and Asharami Synergy Kenya Limited a Sahara Group downstream company in Kenya, the creative writing contest will focus on using the art of storytelling to create more awareness among young primary and secondary school students in Kenya.
Africa needs to be intentional and strategic about ensuring young Africans are involved in conversations and activities geared towards ensuring a just energy transition on the continent, Bethel Obioma, Head, of Corporate Communications, Sahara Group said.
Speaking during a meeting with members of the Kenya Universities Deans of Students Association, KUDSA, Obioma said it was imperative for "generational sustainability" to become the focal point of all aspects of environmental, social, and governance (ESG) policies in Africa.
He said: Africa has a huge youth population that we need to harness creatively as the continent explores the best options for its energy transition. This is why Sahara Group has come up with a creative writing challenge for university students in Kenya as a platform for fostering more understanding of issues like energy transition, climate change, and climate action and giving youths a platform to proffer solutions that can work for Kenya.
He stated that Sahara Group is confident that through the competition Kenyan youths will be inspired to help steer the nation's path as it tackles deforestation and pollution and enhance Kenya's transition to renewable energy solutions and adoption of clean energy technologies in households and businesses.
Commending Sahara Group and Asharami Synergy Kenya for the initiative, KUDSA Secretary General, Lamech Ang'ila said the project was "timely and extremely important for giving young Kenyans a voice which can be instrumental to accelerating Kenya's energy transition journey."
He said: KUDSA as an association is committed to discovering, developing, documenting, and showcasing the talents of our student population, and this creative writing contest is an attempt to foster the Sustainable Development Goals (SDGs) by empowering young people within our universities to come up with solutions and interventions that lead to a more sustainable future.
Open to university students in Kenya, the competition is scheduled to run from July 5 – August 17, 2023. Entries can be in the form of creative short stories, plays, and poems, with a focus on "Creating a sustainable path for Africa's energy transition."
A credible faculty of eminent lecturers in Kenya will assess the entries, looking out for originality, relevance, creativity, message, and the potential of eliciting understanding and participation of primary/secondary students in conversations regarding energy access and sustainability.
Lavinah Gonah, Operations Manager at Asharami Synergy said a total of $1500 has been earmarked for the top three entries at the end of the competition.
She said: We encourage the great university students in Kenya to head to www.sahara-group.com/creativekenyans to upload their entries and thereafter follow @iamsaharagroup on Instagram to share a direct message describing their entries in 50 words.
Gonah said Asharami Synergy would also organize debates for secondary schools in Kenya to further reinforce the message of sustainability to much younger Kenyans adding that the debates will involve eight secondary schools in this phase as a move to raise a generation of Kenyans who will play an active role in transforming Kenya sustainably for many generations to come.
Follow us on twitter