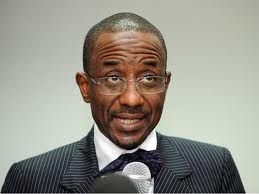 Okey Ndiribe & Emman Ovuakporie
04 October 2012, Sweetcrude, ABUJA – GOVERNOR of the Central Bank of Nigeria, CBN, Sanusi Lamido Sanusi, has kicked against proposals by members of the House of Representatives that the proposed crude oil benchmark of 75 dollar per barrel for the 2013 budget be reviewed upward.
He said the benchmark was not an issue but production of more oil, which will bring more money into the federation account.
Sanusi said: "Benchmark does not bring money into our account but more production of oil. So the issue of benchmark is a non-issue.
"Over 80 per cent of our recurrent expenditure is spent on personnel and the only option is to retrench but this political system does not have that kind of stomach to retrench.
"2010 and 2011 were very bad years and we were very critical of how things were being managed but the managers there now are really doing their best at the ministry."
Chairman, Joint Committee on Finance, Legislative Budget and Research,
National Planning and Aids, Loans and Debt Management, Jibril Abdumuminin, yesterday, also debunked reports making the rounds that Reps had submitted a report that indicated an upward review of the current benchmark to $82 per barrel.
Abdumuminin displayed a newspaper saying "this is not the opinion of this Committee or House but the opinion of this newspaper; we, therefore, advise all Nigerians at home and abroad to discountenance it.
"What the newspaper reported is not true because the committee is still working and we are yet to conclude not to talk of writing our report. So there is no way we would have come to the decision to raise the oil benchmark."
The Medium Term Expenditure Framework, MTEF, forwarded to the House on September 20 by President Goodluck Jonathan, preparatory to the transmission of the 2013 Appropriation Bill, proposed a crude price benchmark of 75 dollars per barrel in the 2013 fiscal year.
Sanusi, who arrived 45 minutes ahead of the committee members, waited for over 30 minutes for a meeting scheduled for 10am, which started at 10.30am.
The CBN governor, who appeared before the joint committee over the 2013-2015 MTEF and the Fiscal Strategy Paper, FSP, declared that such increment would not translate to more revenue accrual to the government.
He said what should be looked at was how to increase crude oil production, and explore other alternatives, adding that "even if you increase the benchmark to 200 dollars per barrel and the price is 75 dollars, it would not amount to increase in revenue."