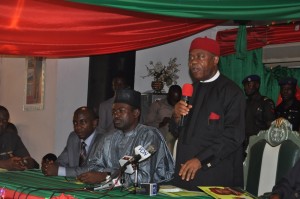 19 January 2013, Sweetcrude, Aba – Minister of Information, Mr Labaran Maku, says is it is criminal for the petroleum marketers to sell the product above the official pump prize of N97.
Maku said this while fielding questions at Osisioma Depot, near Aba, Abia, during the Good Governance tour of the state on Friday.
"It is criminal for people to come and take fuel here at N97 when the government has already paid the balance between N97 and the market prize.
"You come and get government subsidy in this depot and all other depots in the country, then they move out and sell fuel at N150 per litre, this is highly criminal.
"That is problem with Nigeria and that is why the President Goodluck Jonathan is insisting that with the subsidy, some people are stealing from national patrimony in subsidy.
"You can see now, you are confessing that people come to the depot and buy fuel at N97 which is what the president is saying, but unfortunately for us, our people are not honest,'' he said.
Maku said that it was criminal for the marketers to get the product at N97 only to sell above it.
"People talk about corruption, but there is nothing more than corruption when a citizen will come and take fuel here at N97 and sell at N150, which means he is taking N97 from government.
"Taking about N60 from government subsidy and then another N50 from the public and selling close to N200 per a litre, so he invest N97 and sell to the public at almost N200.
He urged the media to report such marketers and follow up the investigations.
"The Federal government is subsidising fuel, some Nigerians are selling at exorbitant prizes after taking subsidy from government and government cannot be in every filling station in Nigeria, it is not possible.''