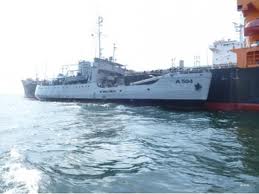 Godwin Oritse
16 October 2012, Sweetcrude, Lagos – THE Senate Committee on Marine Transport has berated the management of the Nigerian Maritime Administration and Safety Agency (NIMASA) for its low budget performance rate.
A summary of the budget performance made available to members of the Senate Committee on Marine Transport who were on an over-sight function visit to NIMASA showed that only N23.8billion of the N42.9billion of the projected revenue representing 55% of the expenditure.
For the N10.6billion voted for recurrent expenditure for year, only N4.7billion representing 44% of the budget has been spent.
Speaking at the Headquarters of the Agency in Lagos, Committee Chairperson Senator Zainab Kure noted there was less that three months to go in the year.
Also speaking in similar vein, the former speaker of the Delta House of Assembly Mr. Pius Ewherido who is the vice Chairman of the Committee said that the 7% budget performance on capital project of NIMASA is not good enough.
He stated that the reason given by the Director General of NIMASA as the factor responsible or the low rate of budget performance was not tenable as the issue raised should have been taken care off even before the budget was presented before the Committee.
"To us it will not be an excuse for sight identification for the budget to be implemented because to us there are things that should precede the budget proposal. So, if such things are factors for failure of the budget implementation, I do not think that is good enough.
"I expect a change in the next budget presentation and implementation. With only 7% rate of implementation, I do not see how you are going to go far because the year is almost coming to an end," the Senator said.
A further breakdown of the budget implementation rate showed that the payment of personnel emolument stood at N7.4bllion for which N12.4billion was approved indicating 60% implementations.
Of the N19.9billion earmarked for capital project, only a paltry sum of N118.9million has beem spent so far, representing 7% of the budget.
Of the N39.2billion approved for disbursement of the Naritime fund, only N52.5million has been released which represented only 0.13% of the what has been spent so far.
NIMASA's Directot General, Mr. Patrick Akpobolokemi however said that the late approval of the budget in April 2012 and the lengthy bureaucratic process of government have contributed to the delay in Agency's budget implementation.
He stated that as a maritime administration, the overriding mandate of the Agency is to create a pro-business maritime domain through the enthronement of safe, secured and protected marine environment to boost the full exploitation of Nigeria's huge maritime potentials