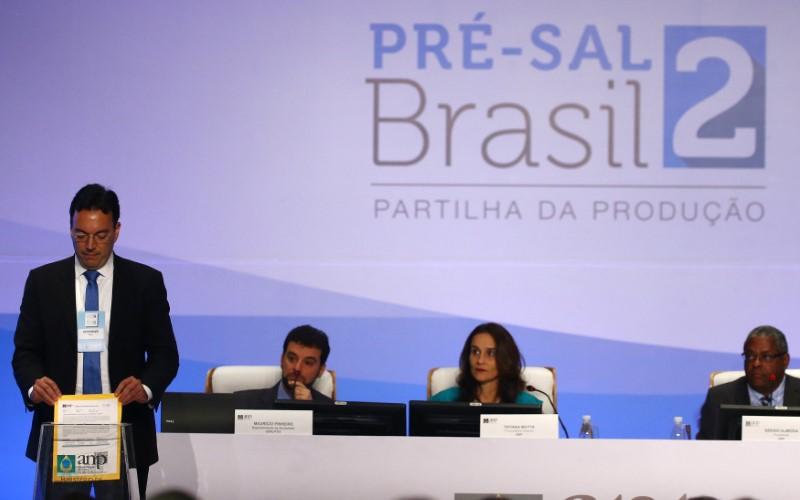 28 October 2017, Rio De Janeiro — Oil major Royal Dutch Shell Plc RDSA.L won half the blocks awarded in Brazil's deepwater oil auction on Friday, while rival BP (BP.L) took two blocks and Exxon Mobil Corp (XOM.N) one in a historic opening of the pre-salt play to foreign operators.
Brazil awarded six of the eight blocks on offer in the auction for the rights to pump oil from the country's coveted pre-salt region, where billions of barrels of oil are trapped below thousands of feet of salt in the country's Atlantic waters.
President Michel Temer said development of the blocks would lead to 100 billion reais ($30.84 billion) in investment from the winning companies and 130 billion reais in royalties and other revenues for the cash-strapped state.
The wins bolster Shell's position as the largest foreign operator in Brazil's offshore oil sector, second only to state-run oil giant Petroleo Brasileiro (Petrobras) (PETR4.SA), adding more than 1,700 square kilometers (656 square miles) to its deep-water Brazil portfolio.
The Anglo-Dutch oil major won one area in a consortium with France's Total SA (TOTF.PA), another with Petrobras and Repsol-Sinopec, and a third with Qatar Petroleum International (QPI) and China's CNOOC.
Shell has said it is confident it can pump oil from the pre-salt fields at below $40 a barrel.
"These winning bids were submitted after our thorough evaluation and add strategic acreage to our … global deep-water growth options," Shell Upstream Director Andy Brown said.
Rival BP Plc (BP.L), which is active in Brazil but not yet producing oil, took two blocks on Friday.
"We see the government of Brazil being more supportive of foreign companies entering Brazil," BP Latin America President Felipe Arbelaez said after the rounds.
"There are high quality assets. We believe that the assets here will be resilient in any price environment."
Brazil earned 6.15 billion reais ($1.88 billion) in signing bonuses for the six fields that it awarded in the auction.
Temer's government has enacted reforms to make the energy sector more attractive to foreign investment, and for the first time international oil firms will be allowed to operate fields in the pre-salt.
Countries worldwide sitting on oil and gas reserves are keen to pump it before it becomes less valuable as global policies to address climate change kick in.
The opposition in Brazil has pushed back against the reforms and the auction was delayed by three hours on Friday after a federal judge issued an injunction to suspend the process at the behest of the leftist Workers Party, which opposes the privatization of oil production.
That left top executives from the world's largest oil companies milling around in the hotel that hosted the auction, in an upscale seaside neighborhood in Rio de Janeiro.
EXXON
U.S. major Exxon Mobil, whose 10-block win in last month's Brazilian auction was seen by many as a prelude to a big play on Friday, took just one block as part of a consortium with Norway's Statoil ASA (STL.OL) and Petroleos de Portugal SA[PETP.UL], a unit of Galp Energia SGPS SA (GALP.LS). Two blocks got no bids.
But Exxon bought a stake in a nearby block from Statoil for $1.3 billion, Statoil said, soon after the round.
"Our full intent is to get right after the Brazil acreage," Jeff Woodbury, Exxon's head of investor relations, said on a conference call following the auction.
The quality of reserves and the reforms have made Brazil an important target for oil majors, even though they have had less appetite for capital-intensive mega projects since crude prices crashed in 2014.
Peroba, which was clinched by Petrobras, BP and China National Oil & Gas Exploration and Development Corp, boasts an estimated 5.3 billion barrels of oil while Carcara, won by Statoil, Exxon and Petrogal, is thought to have some 2.2 billion barrels of oil.
"Brazil's offshore is one of the last major plays out there that's in its infancy," said Brian Youngberg, an oil industry analyst at Edward Jones. "Companies that are still interested in the big elephants out there, like Exxon and Shell, are aggressively pursuing them."
Brazil has high hopes for the volume of oil the companies can pump from the blocks. Brazilian oil output could double to more than 5 million barrels per day (bpd) by 2027, compared with the 2.6 million bpd produced in August, regulator ANP has said.
Two blocks on offer at the auction were not placed. But ANP chief Decio Oddone still considered the rounds a success.
"A result in which 75 percent of offered areas are sold is a resounding success anywhere on the planet according to any point of view," he said. "Brazil returned to the oil and gas sector with this auction."
($1 = 3.2652 reais)
*Luciano Costa, Rodrigo Viga Gaier, Simon Webb & Ernest Scheyder; Simon Webb & Alexandra Alper; Editing: Susan Thomas – Reuters