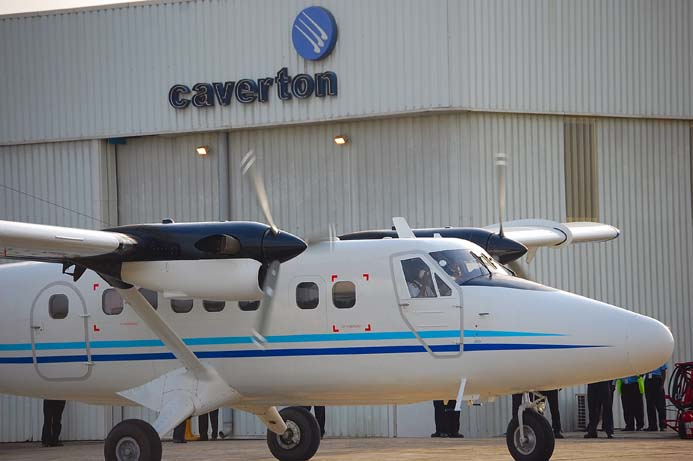 13 March 2012, Sweetcrude, LAGOS – Shell has announced the provision of a $85 million lifeline to a local Nigerian company, Caverton Helicopters, to enable the company purchase six AW 139s aircraft.
Mr. Tony Okonedo, Shell's Corporate Media Relations Manager, disclosed this in a statement in Lagos, saying the provision of the loan to Caverton was in furtherance of Shell's commitment to Nigeria's local content development.
Caverton Helicopters is a major provider of charter services to the oil and gas industry.
He said two of the aircraft would be used for Shell Nigeria Exploration and Production Company (SNEPCo), while the rest would be used in the operations of the Shell Petroleum Development Company (SPDC).
The two helicopters had earlier been commissioned at the Caverton terminal at Murtala Muhammed Airport, Lagos.
The four AW139s will commence operations for SPDC in April and by the terms of the agreement between both parties, Caverton will repay the loan from the proceeds of the contract it executes for Shell.
Managing Director of SNEPCO, Mr. Chike Onyejekwe, described the development as a giant step for a Nigerian company.
Onyejekwe said: "We began the journey in 2010 when we awarded the biggest aviation contract to a Nigerian company. Both Shell and Caverton have worked hard to take the contract to a higher level, and the story will get even better in the coming years not just for our companies but also for service providers in the aviation sector and the wider economy".
Mr. Aderemi Makanjuola, chairman of Caverton Helicopters, said the support his company had received from Shell was a lasting testament to Nigerian content development.
He said: "In the two years since we signed the contract with Shell, we have grown from a company with a staff strength of 90 persons to over 500, creating a pool of highly skilled Nigerians that can work anywhere in the world. The support we have enjoyed from Shell is a lasting testament to Nigerian content development."
The General Manager, Capacity Building in the Nigerian Content Development and Monitoring Board (NCDMB), Mr. Taiwo Elegba and Director, Air Worthiness Standards at the Nigerian Civil Aviation Authority (NCAA), Mr. Patrick Ekunwe, commended Shell and Caverton for the milestone in implementation of the Nigerian Content Development Act, and introduction of modern aviation services in the country.
The AW139 is a new generation twin-engine helicopter that incorporates the latest technology for safer and more economical operations.
It seats 12 passengers with a state-of- the-art cockpit to reduce pilot workload and cabin air-conditioning as well as more luggage capacity.