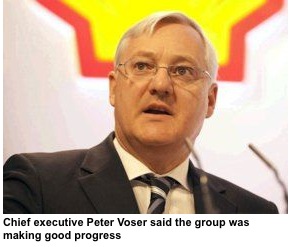 08 March 2012, Sweetcrude, HOUSTON – Shell's global chief executive officer, Peter Voser, has called for for stronger oil industry regulations and enforcement to ensure best best practices in the industry.
"As an industry, we should insist on strong regulation and enforcement to ensure everyone in the industry does the job right," Voser said at the CeraWeek conference in Houston on Wednesday.
According to him, global oil and gas industry should welcome attempts by governments to regulate its operations and must do a better job of addressing public concerns over the environmental impact of their operations.
Cases of water contamination caused by fracking and fears of dirty emissions during production have prompted calls for tighter scrutiny on companies drilling into shales across the country.
In his speech on Wednesday, Voser admitted to "environmental and operational challenges associated with the production of tight and shale gas".
For its part, Shell is trying to address some of these issues, even though "not all of the concern and criticism is based on facts or rational argument", Voser said.
Shell already discloses the chemicals used in its fracking operations and tries to use non-potable and recycled water for the practice "wherever practical". Fracking has also been criticised for what some consider to be its massive water needs, which can total 5 million gallons or more per well.
Shell is also working with the Environmental Defence Fund "to accurately measure methane emissions from natural gas production".
"Our industry has the expertise to effectively deal with these challenges, especially if we are governed b y well-targeted and robustly enforced regulations," he said.