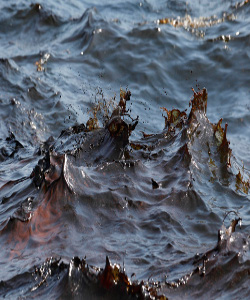 18 July 2012, Sweetcrude, HOUSTON – ROYAL Dutch Shell Plc has disagreed with a $5billion penalty from Nigerian authorities for an oil spill off the coast of the West African country last year.
The amount, proposed by Nigeria's Federal Government seven months after some 40,000 barrels of oil leaked at Shell's Bonga offshore facility, dwarfs similar fines in the U.S. and Brazil.
Shell disagreed with the fine. "We do not believe there is any basis in law for such a fine," said a Shell spokesman. "Neither do we believe that Shell Nigeria Exploration and Production Company has committed any infraction of Nigerian law to warrant such a fine."
The large penalty comes at a time of heightened concern over the safety of offshore oil production, following BP Plc's disastrous Deepwater Horizon explosion and oil spill in the Gulf of Mexico in 2010. Shell is currently facing intense scrutiny from U.S. authorities and environmental groups as it prepares to drill for oil offshore Alaska.
The fine is particularly severe in comparison to other recent incidents. Based on Shell's estimate of the 40,000 barrels of oil spilled in the Bonga leak, the fine equates to around $125,000 a barrel.
By comparison, BP could face a fine under the clean water act for the Deepwater Horizon spill of up to $1,100 a barrel if it isn't found guilty of gross negligence, or $4,300 a barrel if gross negligence is proved.
U.S. oil company Chevron Corporation could have to pay between $8,000 and $10,000 a barrel for its spill of 3,000 barrels of oil offshore Brazil, according to recent comments from that country's regulator.
The ultimate size of the fine will still have to be approved by a committee of Nigerian lawmakers, who Monday heard submissions from the National Oil Spill Detection and Response Agency, NOSDRA, on what an appropriate penalty would be, according to local media reports.
NOSDRA will have to justify to the House Committee on the Environment why Shell should pay such a large amount.
Nigerian lawmakers were told to consider imposing the fine Monday by Peter Idabor, head of NOSDRA, according to local media reports. Mr.
Idabor defended the decision, saying the $5 billion penalty was consistent with similar fines in other oil producing countries like Venezuela and Brazil, the Vanguard newspaper reported.
If lawmakers decide to endorse Mr. Idabor's recommendation, the fine will be the largest ever imposed on Shell. Even in Nigeria, where the firm has pumped commercial oil since the 1950s, Shell's biggest charge to date was a $40.5 million court-imposed fine for a series of spills in Ogoniland dating back to the 1970s.
Shell was forced to halt production from the 200,000 barrel-a-day Bonga field in December after a leak occurred during a routine tanker loading operation. The result was one of Nigeria's worst oil spills in more than a decade.
However, Shell claims that none of the crude reached land and that much of the leaked oil dispersed naturally in the water or evaporated. Some crude did wash up along the Western Niger Delta coastline, which Shell cleaned up, despite expressing doubts that it originated from Bonga.
"(Shell) responded to this incident with professionalism and acted with the consent of the necessary authorities at all times to prevent an environmental impact," the company spokesman said.