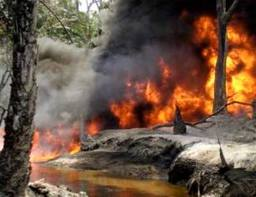 Clara Nwachukwu
31 January 2012, Sweetcrude, LAGOS – Environment instability, particularly with regard to the legal, commercial and regulatory frameworks has been identified as the bane of investment in Nigeria's upstream oil and gas sector.
Disclosing this at the just-concluded Offshore West Africa (OWA) 2012 conference in Abuja, Mr. Chike Onyejekwe, Managing Director, Shell Nigeria Exploration and Production Company (SNEPCo) – a member of the Shell Companies in Nigeria – noted that "Investors don't like uncertainties."
"They want stable terms and conditions. That is particularly true in energy, where project lead times are sometimes 10 years long and facilities operate for decades," he argued.
Furthermore, the SNEPCo boss said investors were desirous of the rule of law and respect for contracts, one of the major criticisms against the Nigerian government, which is often accused of sudden termination of oil and gas contracts, an accusation the government constantly denies.
But Onyejekwe, who spoke on "New Technology, Safe and Efficient Offshore Operations and the Regulatory Environment in the Region", insisted that investors want rules that allow them "to compete fairly in the market as well as good incentives and a fair balance between risks and rewards."
Against this backdrop, he argued that the Petroleum Industry Bill (PIB), which failed to scale through the 6th session of the National Assembly, and now in the process of being represented to the lawmakers, was crucial to further investments in the sector, especially for deepwater offshore exploration and production activity, where SNEPCo's Bonga plays a huge role.
He further observed that "an investment-friendly bill will enable substantial long term investment in the industry."
With regard to Bonga operations, Onyejekwe said his company has learnt from decades of experience in order to operate safely ad responsibly in ever deeper and more hostile environments.
He said that part of the learning process involved a major review of SNEPCo's deepwater operations and safety procedures in 2007, in response to increasing challenges.
Although this led to some procedural and management reforms, nonetheless, he said the company was proud of these initiatives as these meant "improvements to our procedures, including the strengthening of standards in well control, design and completion and the management of contractors."
He said one of the big challenges in deepwater operations is in the area of flow assurance, where pipes blockages by hydrates and wax are difficult to remove and often result in shut downs.
As a result, rather than use chemical treatment to ensure continued crude flow, he disclosed that Shell developed a range of more cost-effective technologies and special techniques to remove plugging.
Noting that deepwater exploration is costly and very risky, Onyejekwe noted that Anglo-Dutch Shell has developed new technologies to reduce associated risks. "Technology is a critical enabler for responding to the energy challenge," he said, adding that "Shell introduced many of the deepwater technologies the industry uses today."
Some of these include the J-lay technique for deepwater pipeline installation, the development of many offshore pipeline and riser systems technologies, and the design of the articulated stinger for cost effective large diameter pipe laying in the North Sea and a host of others.
In view of the foregoing, he said it is not a wonder that Bonga "opened a new chapter in Nigeria's energy industry and increased Nigeria's oil production by about 10%."
The deepwater project has the capacity to produce up to 200,000 barrels of crude and 150 million cubic feet of gas daily. By the end of 2011, Shell said the facility had produced over 380 million barrels of oil.