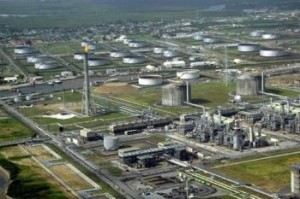 Yemie Adeoye
and Oscarline Onwuemenyi
22 February 2012, Sweetcrude, ABUJA – The Nigeria government has served notice it will renew the leases of Shell Companies in Nigeria before end of March, 2012.
Diezani Alison-Madueke, the Minister of Petroleum Resources made the disclosure during the signing ceremony for renewal of the oil mining lease (OML) 67, 68 and 70 of the Nigerian National Petroleum Corporation, NNPC, and Mobil Producing Nigeria (MPN) joint venture spanning the next 20 years.
Diezani Alison-Madueke expressed the Federal Government's commitment to the growth and development of the oil and gas industry, adding that the government expects to renew its leases with Shell Petroleum Development Company in the coming month.
Alison-Madueke said the lease renewal marks another milestone in the country's hydrocarbon industry in accordance to the criticality of the Federal Government's statutory right in holding oil and gas assets in particular with the implication in investment decisions and on major project delivery.
"I am particularly delighted that after a somewhat lengthy process both parties that is, the government and people of Nigeria and the NNPC/MPN joint venture have arrived at what they consider a mutually fair agreement in which to work together for another 20 years," Mrs. Alison-Madueke noted.
The Minister posited that renewal of leases is in accordance with paragraph 10 and 13 of the first schedule of the Petroleum Act of 1969 cap V 10, adding that all other pending renewal leases will be expeditiously handled.
She expressed hope that the milestone lease renewal will encourage other investors in the petroleum industry to renew their commitment to the growth and development of the industry with emphasis on gas based industries.
In his remarks at the signing ceremony, the Group Managing Director of the NNPC, Austen Oniwon commended the Minister for her sterling leadership style that nestled the epochal lease renewal assuring that the joint venture arrangement with MPN will continue to impact positively on the nation's economy.
He disclosed that the NNPC/MPN OML 67, 68 and 70 is the most prolific field in Nigeria onshore shallow waters adding that the JV in the past 20 years has managed the field most professionally leading to a daily output of 500,000 barrels of crude.
Speaking in similar vein, the Chairman and Managing Director of ExxonMobil Nigeria, Mr. Mark Ward expressed confidence in the Nigerian petroleum industry and expressed his company's determination to continue to contribute to the growth of the country's hydrocarbon resources for the benefit of the economy.