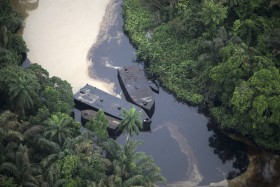 16 July 2012, Sweetcrude, Lagos – The Shell Petroleum Development Company (SPDC) said it lost 12.58 million barrels of crude oil between December 2011 and June to illegal bunkering.
Mr Mesh Maichibi, the Company's Operation's Manager, Swamp 1, East, disclosed this at the weekend while speaking with journalists during an over-flight of the Nembe Creek Trunk line (NCTL) in Rivers and Bayelsa states.
Maichibi said that out of the number, 1.44 million barrels were deferred due to low pressure on the trunk line caused by trip-offs during the illegal bunkering activities.
He explained that when crude oil stayed under ground and did not come out for use, it was called deferment since there was a lost in production. The operation's manager said the NCTL consisted of two major trunk lines, San Batholomew and Cawthorne Channel Junction Manifold, adding that crude oil theft on the facilities had increased recently.
Maichibi explained that the Trunk lines, re-commissioned in 2010, had not experienced any significant oil theft until Dec. 24, 2011 when a major spill of 245 barrels was reported on it.
He said that the spill was at the Tora manifold and was caused by two failed six inches bunkering connections. "The repairs required installation of coffer dams and took till Jan 23, at a total production deferment of 4.3 million barrels.
"Since the restart of production on Jan 23, there has been multiple facility trips caused by pressure drops, resulting from illegal off take. Once there are massive illegal bunkering activities, the pressure on the affected facility will drop and trip off," Maichibi explained.
He said that after the commencement of production in Jan. 23, another trip-off occurred from Jan. 26, to Jan. 31 due to low pressure on the line.
Maichibi said that the situation reoccurred in February for 16 days, March for 10 days, and in April for 12 days all due to pressure trip-offs on export lines.