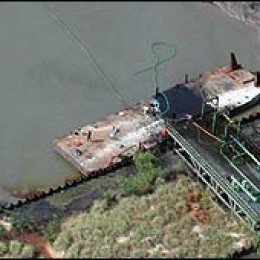 29 March 2012, Sweetcrude, Port Harcourt – Revenue due to the government from Nigeria's oil resources will dwindle further in the wake of increased crude theft in the Niger Delta region, Managing Director of Shell Petroleum Development Company of Nigeria Ltd (SPDC), Mr. Mutiu Sunmonu, said Wednesday.
Sunmonu, who disclosed that Nigeria was losing so much revenue to crude theft, stated that an average of $5 billion was been lost by the country
annually to oil theft.
He warned that if left unchecked, the government would receive less of revenue from oil business in the country.
He said during a meeting with the Executive Secretary of Nigerian Extractive Industries Transparency Initiative (NEITI), Mrs. Zainab Ahmed, in Abuja that: "Nigeria is losing at least $5 billion every year as a result of criminals stealing crude oil in the delta. If we don't stop this, I can guarantee you that the revenue from oil business to the government in particular will continue to dwindle."
Sunmonu, however, debunked claims that Nigeria lacked adequate record of her daily crude production, saying the country had measures in place to ensure adequate accounting of crude exported from its terminals.
According to him, extreme emphasis placed on the country's daily crude production is irrelevant when compared to the amount of revenue she loses on crude theft.
"Rather than concentrate on the quantity of crude produced, more focus should be on stopping oil theft that is costing the country $5 billion yearly. Many people are under the impression that the oil-producing companies are playing games with the amount of crude that they produce and export. I want to state here categorically that the oil business is an international business.
"The practice in terms of how you account for what you produce, how you account for what you sell is universal. The companies in this business are very big companies. The code of conduct that governs their activity is so strict that they cannot afford to play games," Sunmonu said.
In his explanation of the existing regulatory framework of Nigeria's oil industry operation, Sunmonu said: "Nigeria as a country has put its own regulatory framework around how you account for what you produce and how you account for what you load. At the port of loading, security agents are positioned there, the customs people are also there and apart from that, there are meters which measure what goes from your tank to the tankers.
"And reconciliations are done on both sides. It is a very well controlled operation but a lot of people think there must be games going on. But let me tell you as a Nigerian that what all of us need to worry about is the amount of the crude that is been stolen by people in the delta; people who cut pipelines to steal crude. People who steal crude to illegal refinery, which is what we should be worrying about."
Stressing that Nigerians were unduly worried about the activities of International Oil Companies (IOCs) operating in the country, Sunmonu stated: "Nigerian should not be worrying about what Shell, Chevron and Exxon are doing. I can tell you these companies are too big to play games. What they have at stake outside of Nigeria is too big that they cannot afford to play games in any country. The international laws will go after them.
"I really want us to know that we have reputable companies handling the oil and gas operations in this country. Our greatest challenge is about criminal activities where people steal crude every day and that should be our focus because I think that the oil companies are very strong in their ethics in terms of accounting for the oil that they produce."
Ahmed in her remarks expressed hope that Sunmonu's visit would smoothen the relationship between NEITI and Shell especially in the conduct of the petroleum industry audit.
"Over these years, there have been missing gaps in NEITI's engagement with the companies in Nigeria resulting in fear, distrust, information gap, mutual suspicion and resistance to comply with NEITI audit requirements in some circumstances. I hope with your visit today, a new chapter has been opened in the relationship between NEITI and companies in general and Shell in particular.
"For Shell, NEITI expects your cooperation and your influence in bringing all international oil and gas companies fully into the NEITI process especially during our on-going and future industry audit," Ahmed stated.