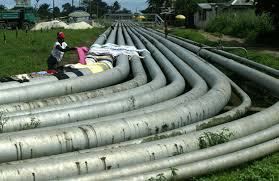 *Shut-in clocks 9-days, 240,000 b/d affected
OpeOluwani Akintayo
16 May 2018, Sweetcrude, Lagos — Shell Petroleum Development Company, SPDC, has shut down the Trans Forcados crude oil export pipeline due to leak, shutting in 240,000 barrels of crude oil per day, b/d.
According to information reaching SweetcrudeReports, the leak occurred on May 7, clocking nine days since it was shut down for repairs.
Trans Forcados which has Shell as terminal operator and pipeline operator, Heritage Oil, transports about 200,000 to 240,000 barrels per day of crude, and over 15 oil fields are now shut-in due to the leak.
Shell pumps the roughly 50,000BOPD crude it currently produces in its operated Western Niger Delta fields (held in Joint Venture with NNPC, TOTAL and ENI) through the facility.
The crude is exported out of the country from the Forcados Terminal.
So do the six Joint Ventures that NPDC has with Nigerian independents (Seplat, Shoreline Natural Resources, Neconde, Elcrest E&P, ND Western and First Hydrocarbon Nigeria).
However, Seplat declared, in its 1st Quarter 2018 report, that it already had an alternative to TFP in case of the extended outage, and it was working on a second alternative, expected to be commissioned by 3Q 2018.
Crude oils from four marginal fields (Pillar operated Umuseti field, Energia operated Ebendo field, Platform operated Egbaoma field and Midwestern operated Umusadege field) are also pumped through this facility, although the marginal field operators have an alternative evacuation route, through the ENI operated Kwale to Brass pipeline.
Before this recent leak, the pipeline was the object of several militant attacks in 2016.
The first attack that stopped the flow of crude came in February 2016, followed by another in July.
Repairs continued until October and the pipeline was restarted, only to be shut down before the month ended, after a bombing from a new militant group that had emerged in the Niger Delta, the Niger Delta Greenland Justice Mandate.
This bombing was followed by two more in November, which crippled the pipeline for several months. The renewed violence came at a time when Nigeria was ramping up its crude oil output, with the Forcados terminal, among others, restarting operations after several months of force majeure after earlier attacks.