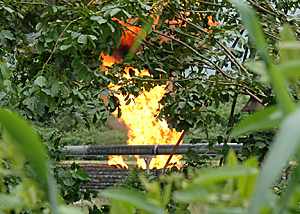 06 May 2013, Yenagoa – A non-governmental organisation, the Environmental Rights Action, ERA, and some residents near Shell's oil field in Opollo Epie in Bayelsa State, have reported unusual gas flare at ground level in the area.
The Head of Bayelsa Office of ERA, Mr Alagoa Morris, told the News Agency of Nigeria, NAN, that the flares had wrecked havoc on the ecosystem since the oil firm commenced the flaring in April 2013.
He said: "Shell has been discretely flaring gas at ground level within the field in Opollo in Yenagoa Local Government Area and the last time we raised alarm on the consequences, they put out the flame.
"They have been doing this at odd hours to evade the industry regulators and avoid paying the gas flare penalties.
"A visit to the site shows that the vegetation around the site has been at the receiving end of this assault on the environment.
"Our volunteers and monitors have been following the development which has taken a negative toll on the lives of the residents who had to contend with the heat and noise from the flames emanating from the well."
Morris stated that the attention of the NGO was drawn to the area by the orange tone of the skyline and thick smoke of unburnt gas that escaped into the atmosphere.
The environmentalist said that uncontrolled gas flare in Nigeria has been outlawed and expressed the regret that the practice had continued unabated.
Morris noted that the "insignificant" penalty for gas flare encouraged the oil firms to flare gas rather than discourage them.