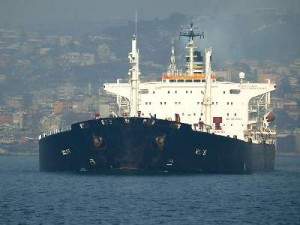 07 June 2013, Lagos – Acting Executive Secretary of Nigerian Shippers' Council, NSC, Mr. Hassan Bello, has advocated that Nigeria's crude oil and petroleum products be carried on the basis of Cost, Insurance and Freight, CIF.
Nigerian crude and petroleum products are currently being carried on Free on Board, FOB, basis, and analysts say, this has cost Nigeria billions of dollars over the years.
FOB means that the buyer of Nigeria's crude oil would nominate the ship to carry the cargo to destination of choice. In the same vein, Nigeria buys her imported goods on CIF and sells FOB.
According to Bello, Nigeria would benefit more if its goods were shipped on CIF rather than FOB. He called for an urgent review of all obsolete maritime laws in the country, stressing that this was the only way to maximise the benefits of Nigeria's maritime endowments.
Disclosing that he had already made this view known to government as a member of the port reform committee, he maintained that selling FOB was detrimental to the Nigerian economy.
"Eighty per cent of oil-producing countries carry their wet cargo on CIF basis. If it is by CIF, it means Nigerians will provide the ships that will carry the cargo", he stated, as he stressed that carriage of goods on CIF means big time business for the nation's insurance industry, in addition to creating a platform that would ensure that Nigerian shippers have new opportunity to own modern ships.
According to him, indigenous shipping companies have been swimming against the tide because of competition, and despite the country having highly experienced ship masters, capable of carrying Nigeria's crude, a level playing field may never be created, until government moves to empower indigenous Nigerians to own ships.
Bello however expressed delight that the Shippers' Complaints Unit in NSC, which was established to address the business class problems, has been very effective.
Giving an insight into what the unit has done so far, the acting executive secretary of NSC said: "Between 2011 and 2012, not fewer than 200 complaints were received and treated with about 80 per cent of them resolved and over N200 million refunds made to Nigerian shippers on demurrage and container deposit returns".
He added that the success recorded so far by the unit had further encouraged NSC's resolve to push harder for more service delivery for the benefit of shippers in the country.