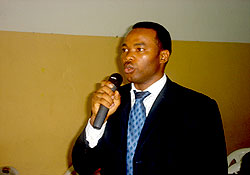 *Maritime lawyer threatens actions

15 August 2012, Sweetcrude, Lagos – Alleged imposition of illegal and arbitrary charges on Nigerian importers has undermined the Nigerian economy and attracted the attention of a maritime lawyer Mr. Emeka Akabogu who has threatened to sue shipping companies involved in these unwholesome practices.
Akabogu stated that statistical records obtained from the Nigerian Ports Authority (NPA) are enough reason to take action against these shipping firms adding that the need to have a commercial regulator to checkmate the activities of terminal operators cannot be overemphasized.
"What really constitutes the numerous charges slammed on importers/shippers of goods to Nigeria-like Terminal handling charges (THC), containers demurrage, who should be charging and how much is the international standard of , why pay VAT on CIF when it is also charged on customs duty, Why VAT on container deposit? He queried
Participants at meeting did a critical analysis of the roles of NPA and Nigeria Shippers Council (NSC) and the Single window or one-stop shop clearing house for all payments is desirable, and came up with consensus of a commercial regulator.
He said "From statistics obtained from NPA, imports in a year show 817,216 TEUs plus 231,423 vehicles is recorded. He assumes that damage, delay or loss incidents affecting at least 40% of these numbers. Also, assumption of average value of one TEU equals $75,000.00 and that of one vehicle$12,000.00
"When these amounts are used to multiply the quantity of imports in a year, it means thus: 817,246 x $75,000 x 0.4 = $24.5billion. Container deposit fees equals 817,246 x N80, 000(minimum considered) equals N65.4billion. Now 30%(i.e.N19.6billion) is retained for various reasons, while a balance of N45.8billion is expected to be paid, after a minimum of 2 months delay with 10% interest accrual.
Participants are also threatening to shut down the port saying that "After several years of trying to get government's attention to the unwholesome practices of these shipping companies and terminal operators, the only language the Federal Government seem to understand is to hear that the ports are shut"
The National President of the Association of Nigerian Licensed Customs Agents (ANLCA) Alhaji Olayiwola Shittu calmed frayed nerves and disclosed that in spite of the fact that highly placed persons, at the Federal Ministry of Transport, are colluding with some industry operators, to scuttle the actualization of a Commercial Regulator for the maritime industry, a commercial regulator must be established.